OCCASIONAL PRODUCTS
Beautiful and tasty products prepared especially for Christmas. Warming tea with spices, sweet, melting in the mouth almonds in a white chocolate, crunchy nuts in chocolate – proposals simply created for winter evenings. We also recommend our news – white chocolate with raspberries and a hand-made, intricately decorated gingerbread house.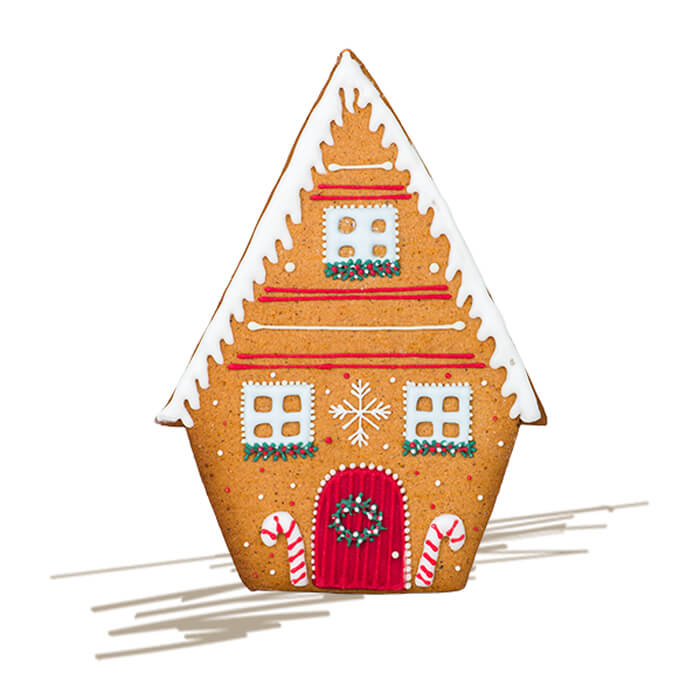 Gingerbread house
A beautiful handmade cookie decorated with a real passion for confectionery. Each gingerbread is baked in butter and honey with the addition of aromatic spices. A perfect, unique addition to a Christmas gift.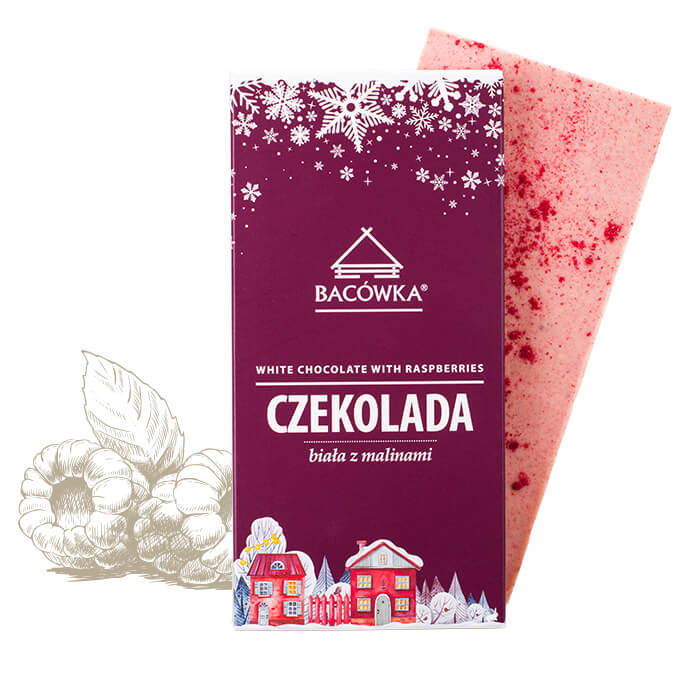 WHITE CHOCOLATE WITH RASPBERRIES
Excellent, melting in the mouth white chocolate with the addition of freeze-dried raspberry fruit. A handmade chocolate bar is a sweet way to make your loved one happy.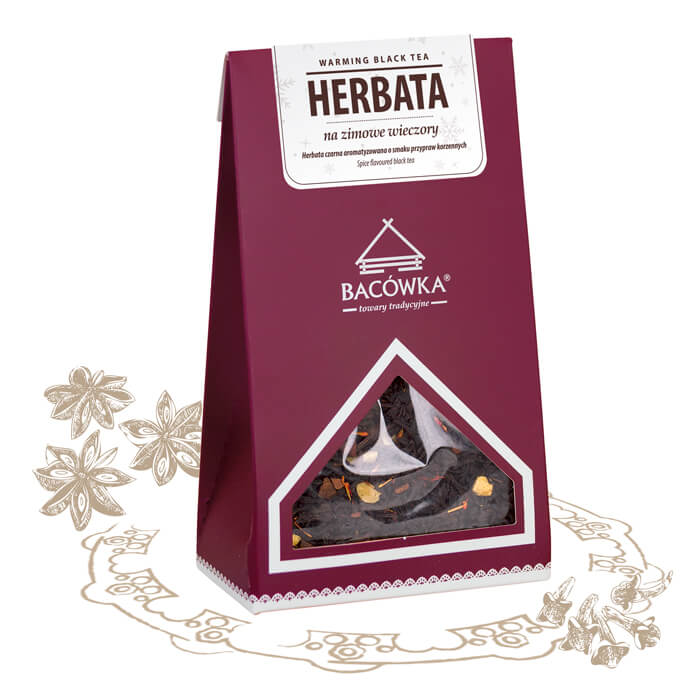 TEA FOR WINTER EVENINGS
Pleasant, warming black tea with aromatic spices. Fragrant apple, cinnamon, ginger and anise, it will warm you up and enjoy your time during long winter evenings.
ALMONDS IN WHITE CHOCOLATE WITH COCONUT
Delicacies in chocolate is a great idea for a Christmas gift. Sweet, melt-in-your-mouth almonds in white chocolate with coconut, packed into a beautiful, winter packaging are a perfect gift for lovers of all sweetnes.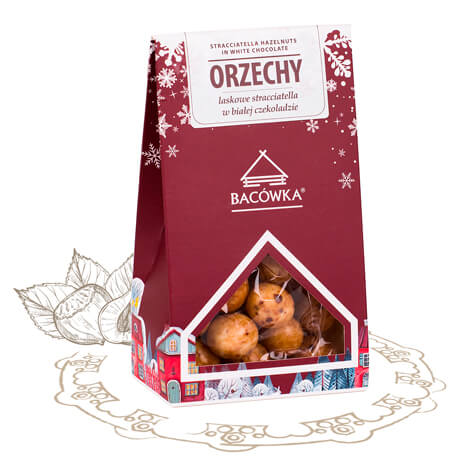 STRACCIATELLA HAZELNUTS IN WHITE CHOCOLATE
Delicious, crunchy nuts dipped in white chocolate are a great idea for a sweet gift. Moody, winter packaging in a festive atmosphere will be a perfect addition to any gift.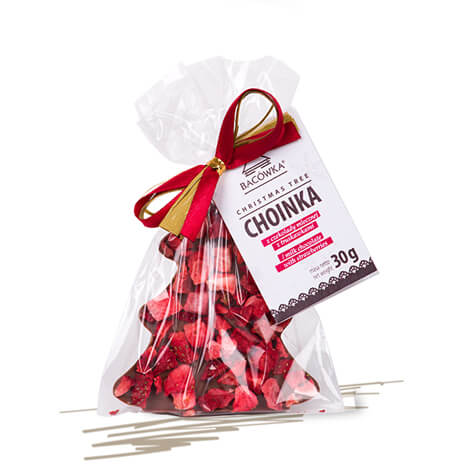 CHRISTMAS TREE MILK CHOCOLATE WITH STRAWBERRIES
Handmade, milk chocolate christmas tree with strawberries. The friendly form and delicious milk chocolate make it a perfect product as a small snack or a sweet gift.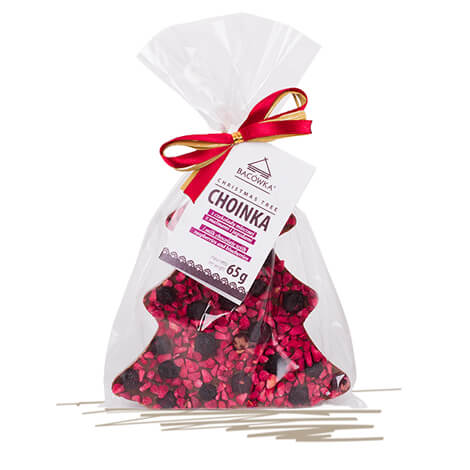 CHRISTMAS TREE MILK CHOCOLATE WITH RASPBERRY AND BERRIES
Extremely charming, hand-formed milk chocolate with blueberries and raspberries. The dried berries look like real Christmas balls on the Christmas tree.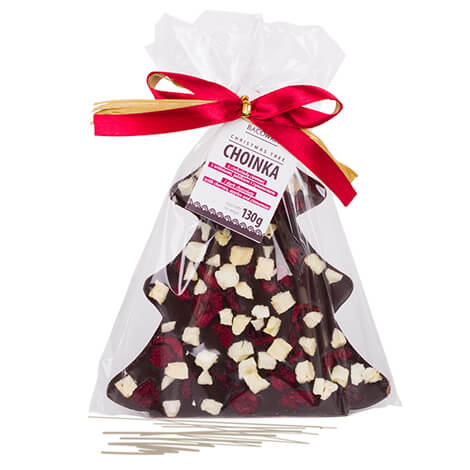 CHRISTMAS TREE DARK CHOCOLATE WITH CHERRY, APPLE AND CINNAMON
Handmade Christmas tree with an aromatic composition of apples, cinnamon and cherries, which perfectly harmonizes with the balanced taste of dark chocolate.
Szanowny Użytkowniku ! Wejście na stronę internetową www.bacowkatowary.pl (dalej: "Serwis"), wymaga wyrażenia zgody na wykorzystanie przez Administratora plików cookies (ciasteczek) w celach opisanych w Polityce prywatności. Warunki przechowywania cookies i dostęp do ich ustawień możesz sprawdzić lub zmodyfikować za pomocą ustawień Twojej przeglądarki. Naciskając przycisk "Wyrażam zgodę" potwierdzasz, że zapoznałeś się z informacjami zawartymi w Polityce prywatności oraz że Twoja zgoda jest świadoma i dobrowolna. Polityka prywatności
The cookie settings on this website are set to "allow cookies" to give you the best browsing experience possible. If you continue to use this website without changing your cookie settings or you click "Accept" below then you are consenting to this.