Roasted Products
The aromatic and tender roasted products are ideal both for a festive dinner or everyday meals. The well-seasoned crust gives way to juicy wholesome meat, which looks great served in slices.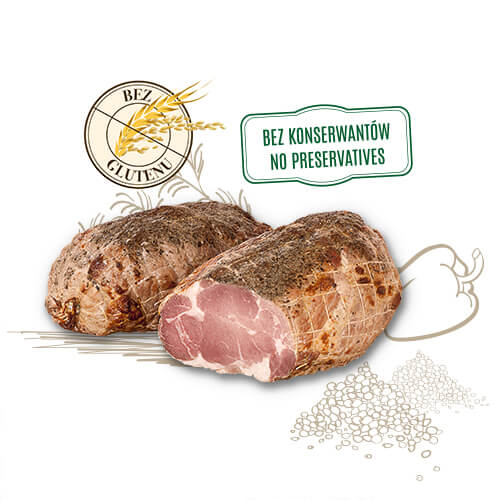 PORK FROM THE OVEN
Precious premium quality roast meat, made with the top quality pork. Liberally seasoned with a mixture of cumin, marjoram and garlic, delights with its wonderful flavour and incredibly tempting herbal aroma.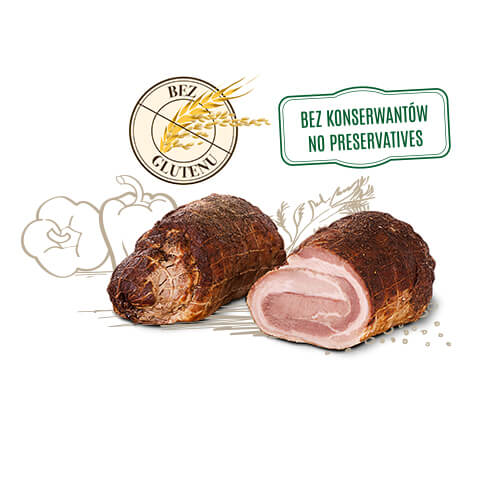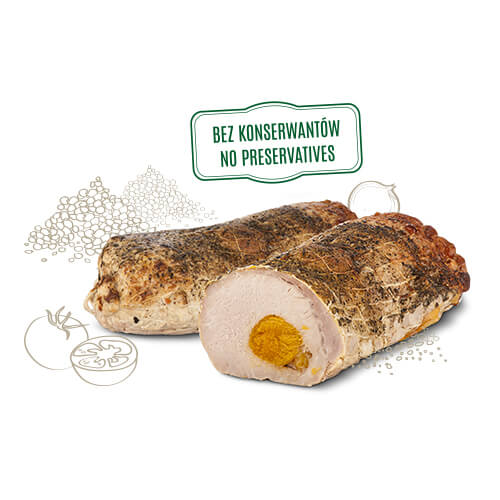 ROAST PORK WITH APRICOT
Incredibly tender and aromatic cold meat, with a delicious surprise inside. Popular with children due to its tasty look. Prepared according to a well-tested recipe; without any additives or preservatives.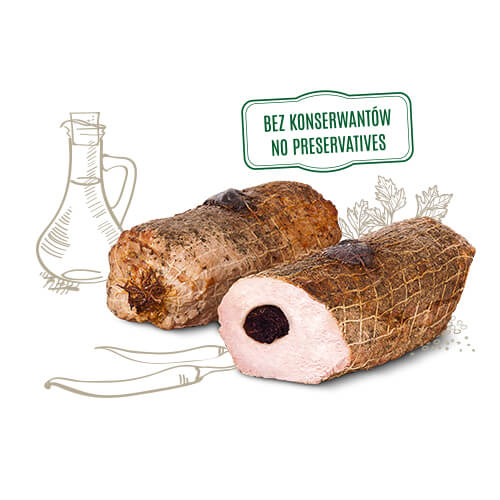 ROAST PORK WITH PLUM
Tender juicy pork enriched with the addition of fruit. The distinctive taste of dried plums and a perfectly selected blend of spices and herbs contribute to its unique flavour. Excellent served both hot or cold.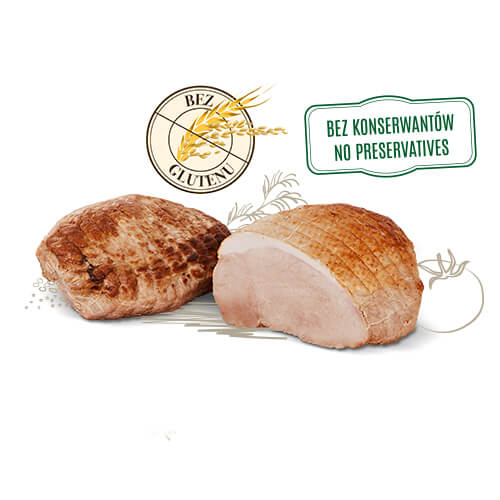 Szynka z pieca
Szynka z pieca wyróżnia się wyjątkowo soczystym wnętrzem i wyrazistą, lekko doprawioną skórką. Sprawdzona kompozycja majeranku, kminku i czosnku nadaje jej wyjątkowy aromat. Szlachetny, szary kolor wędliny to zasługa specjalnej receptury, wykluczającej użycie jakichkolwiek sztucznych dodatków.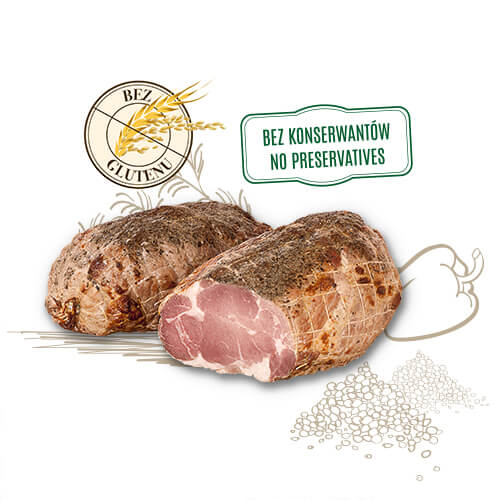 Kark z pieca
Szlachetna pieczeń klasy Premium, z najwyższej jakości mięsa wieprzowego. Obficie natarty mieszanką kminku, majeranku i czosnku, zachwyca nie tylko smakiem doskonałego mięsa, ale także niezwykle kuszącym, ziołowym aromatem.
Szanowny Użytkowniku ! Wejście na stronę internetową www.bacowkatowary.pl (dalej: "Serwis"), wymaga wyrażenia zgody na wykorzystanie przez Administratora plików cookies (ciasteczek) w celach opisanych w Polityce prywatności. Warunki przechowywania cookies i dostęp do ich ustawień możesz sprawdzić lub zmodyfikować za pomocą ustawień Twojej przeglądarki. Naciskając przycisk "Wyrażam zgodę" potwierdzasz, że zapoznałeś się z informacjami zawartymi w Polityce prywatności oraz że Twoja zgoda jest świadoma i dobrowolna. Polityka prywatności
The cookie settings on this website are set to "allow cookies" to give you the best browsing experience possible. If you continue to use this website without changing your cookie settings or you click "Accept" below then you are consenting to this.