Our Delicacies
Our delicacies are the highest quality meat products prepared according to old proven recipes. To make them we use the rich history and traditions of our region connected with food preparation, applying herbs, ways of seasoning and smoking meat. Many of these products have been awarded for their unique traditional taste.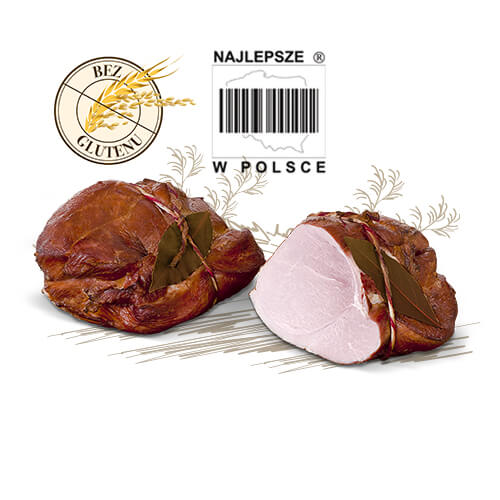 "ZADEK" HAM
Oryginal ham made from a haunch of pork, long marinated in pickle salt, with allspice and other spices. A premium product  awarded with the The best in Poland certificate and Grand Prix Małopolski Smak.
Packaging: vac
Weight: 0.8 kg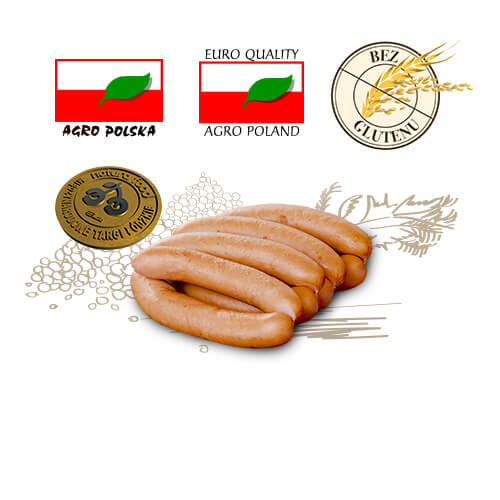 VEAL SAUSAGES
Extremely delicate and fragile veal sausages with the addition of pork. This delicacy is low in fat but high in protein, iron, vitamin B12 which makes it an excellent snack for children and people on a diet – also gluten-free diet. The highest quality product; winner of the prize in the category ''traditional product".
Packaging: map
Weight: 250g and 500g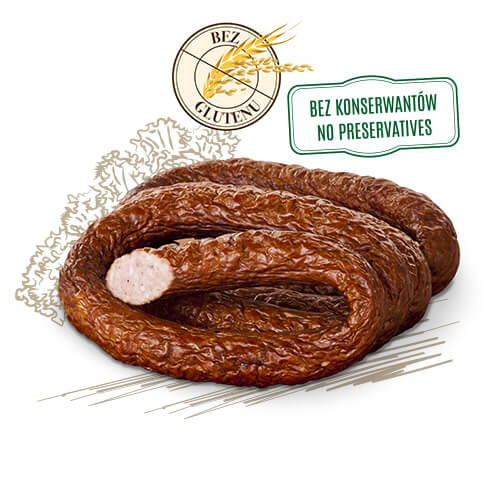 HOME-STYLE SAUSAGE
Smoked over the beech and apple wood smoke, seasoned with garlic, onion, marjoram and pepper takes on a multidimentional flavour and aroma – a true gem among  sausages.
Packaging: map
Weight: 1 kg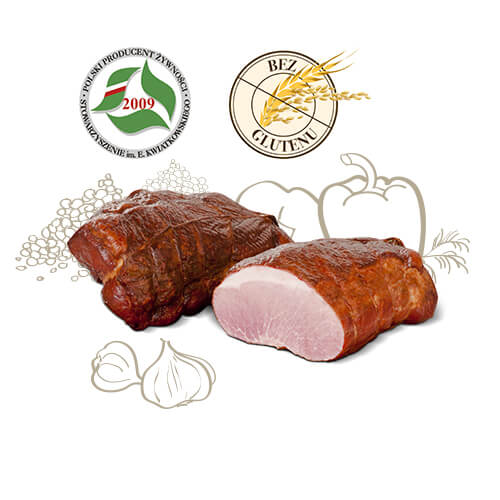 "SZOŁDRA" HAM
Szołdra is a traditional Polish ham, but we have created something more – an exquisite fragrantly-spiced ham with old character and a thin coating of fat. A real 'must taste'.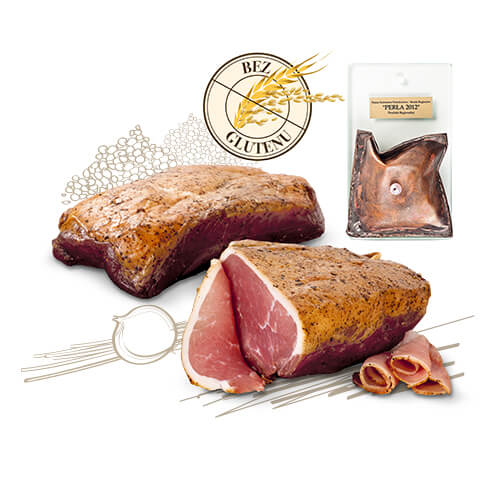 SMOKED VEAL
Long matured ham is an excellent ham with the flavour similar to Parma ham. This carefully hand-selected meat is first dried and then cold smoked. Thanks to a special blend of herbs takes on such a great taste and aroma that it would be a pity not to taste it.
Packaging: vac
Weight: 0.8-1 kg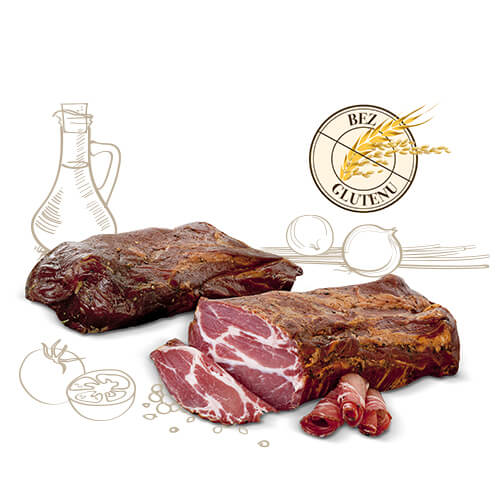 LONG MATURED PORK NECK
This delicious long matured pork neck, dried and subtly cold smoked, will enrich your diet with easily digestible protein, vitamins from B group, iron and zinc, and equally importantly, add a unique taste and aroma to your menu.
Packaging: vac
Weight: 0.8-1 kg
Szanowny Użytkowniku ! Wejście na stronę internetową www.bacowkatowary.pl (dalej: "Serwis"), wymaga wyrażenia zgody na wykorzystanie przez Administratora plików cookies (ciasteczek) w celach opisanych w Polityce prywatności. Warunki przechowywania cookies i dostęp do ich ustawień możesz sprawdzić lub zmodyfikować za pomocą ustawień Twojej przeglądarki. Naciskając przycisk "Wyrażam zgodę" potwierdzasz, że zapoznałeś się z informacjami zawartymi w Polityce prywatności oraz że Twoja zgoda jest świadoma i dobrowolna. Polityka prywatności
The cookie settings on this website are set to "allow cookies" to give you the best browsing experience possible. If you continue to use this website without changing your cookie settings or you click "Accept" below then you are consenting to this.