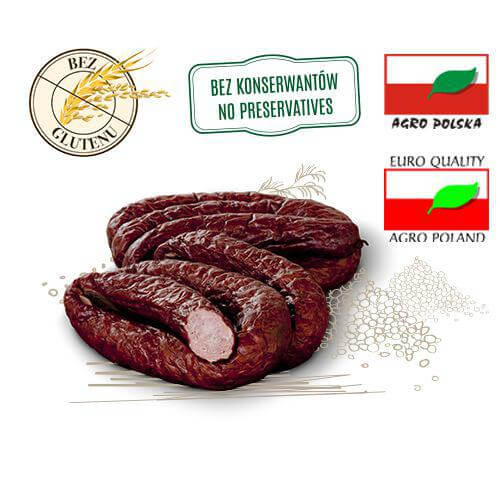 GAME SAUSAGE
A dried sausage with a wonderful garlic and juniper aroma. Thanks to the precious game meat, this premium quality product tastes delicious.
Packaging: map
Weight: 400g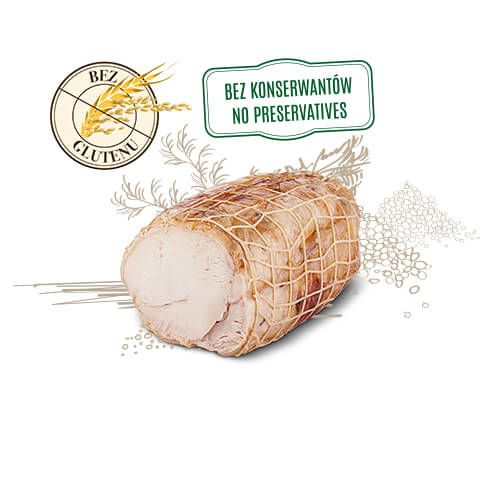 ROAST CHICKEN BREAST
Classical roasted chicken breast made from Polish chicken meat, with a wonderful aroma, goes well with all condiments. This premium quality product is recommended for dinner dishes, salads and sandwiches.
Packaging: vac
Weight: 800g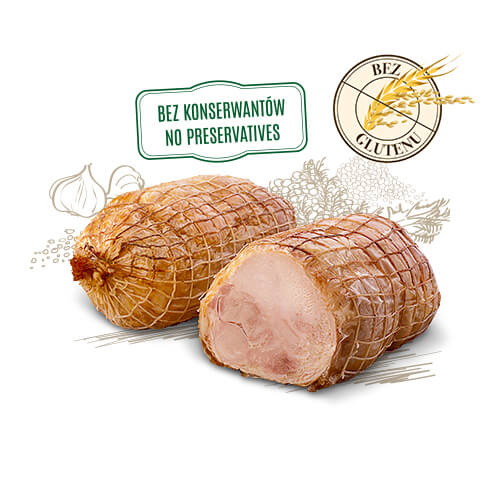 CHICKEN ROULADE
Sensational chicken roulade seasoned with a perfectly selected blend of spices. Once you taste it, you will love it. Premium quality product.
Packaging: vac
Weight: 1.5 kg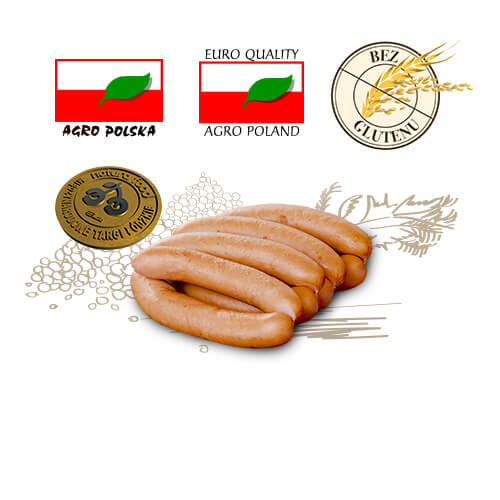 VEAL SAUSAGES
Extremely delicate and fragile veal sausages with the addition of pork. This delicacy is low in fat but high in protein, iron, vitamin B12 which makes it an excellent snack for children and people on a diet – also gluten-free diet. The highest quality product; winner of the prize in the category ''traditional product".
Packaging: map
Weight: 250g and 500g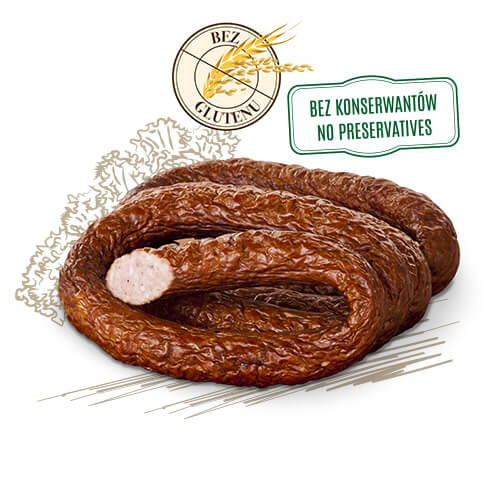 HOME-STYLE SAUSAGE
Smoked over the beech and apple wood smoke, seasoned with garlic, onion, marjoram and pepper takes on a multidimentional flavour and aroma – a true gem among  sausages.
Packaging: map
Weight: 1 kg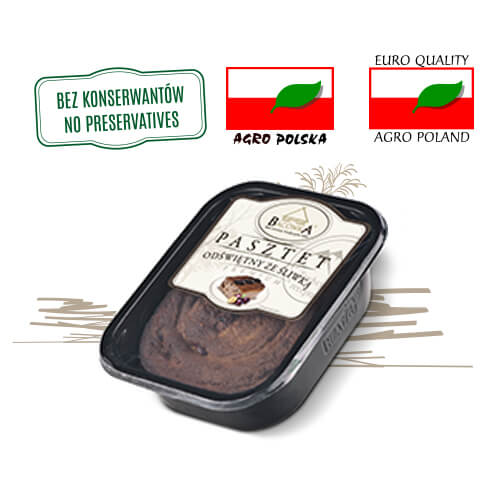 FESTIVE PATÉ WITH PLUM
Traditional Polish paté. The distinct flavour of plum contributes to the velvety deep taste of this paté; it will delight your family and enrich your domestic menu.
Packaging: mould
Weight: 330g
FESTIVE PATÉ WITH CRANBERRY
An aromatic paté prepared according to a well-tested recipe. The combination of expressive meat and sweet cranberries results in an excellent taste appreciated even by the most demanding food lovers. Once you try it, you will want more.
Packaging: mould
Weight: 330g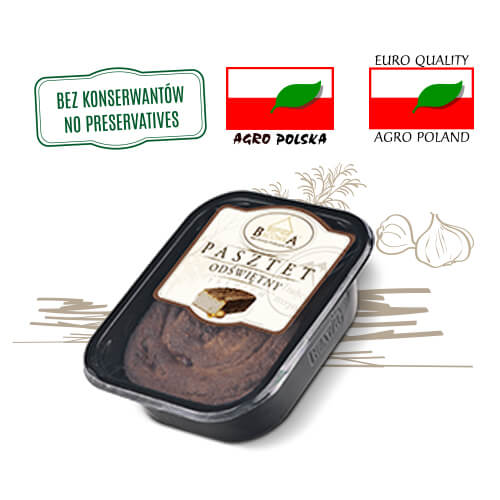 FESTIVE PATÉ
Festive paté flavours evoke childhood memories. This classic pork paté will bring back the most beautiful times, and its delicious flavour will stay long in memory.
Packaging: mould
Weight: 330g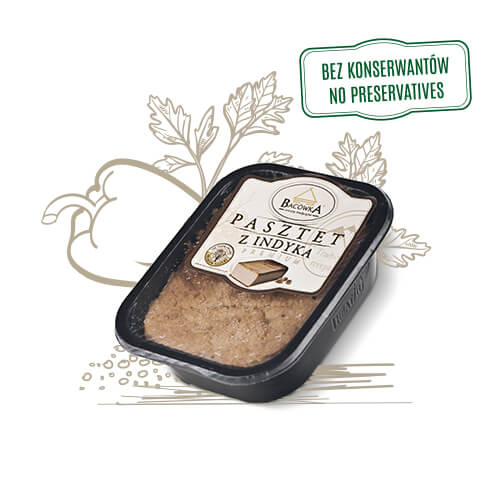 TURKEY PATÈ
Turkey meat, which is highly rated for its health benefits and easy digestibility, is ideal for daily diet. It is easy to spread on bread and its excellent taste will never bore you. It goes well with red beet and horseradish sauce. Bon Appetit!
Packaging: mould
Weight: 330g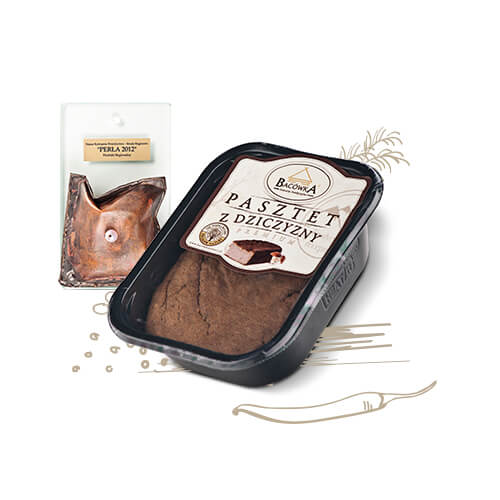 PATÉ with game meat
Precious meats and carefully selected dried herbs and mushrooms work together to make this game paté really unique. Its distinct taste and delicate texture will delight everybody. Due to its exquisite character it has an established position on a Polish Easter table. It contains no preservatives.
Packaging: mould
Weight: 330g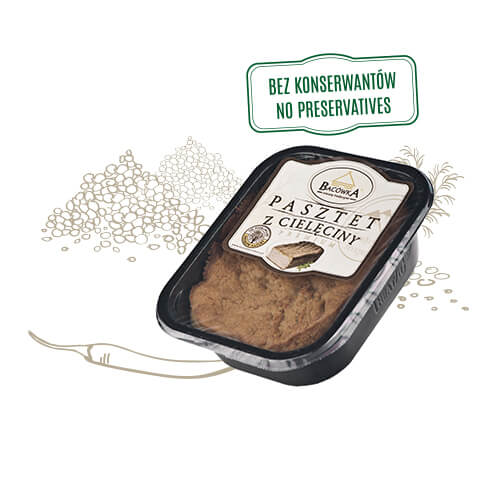 PATE WITH VEAL
This delicate veal paté will satisfy both small and big food lovers. Its velvety texture and delicate noble taste make it a perfect snack. Especially recommended as a sandwich topping.
Packaging: mould
Weight: 330g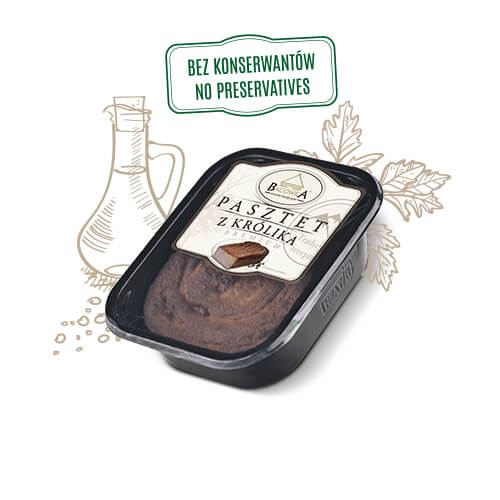 PATE VITH RABBIT
This noble rabbit paté is a sophisticated dish ideal for a special dinner or elegant lunch. It will delight your family and friends. Goes great with red dry wine.
Packaging: mould
Weight: 330g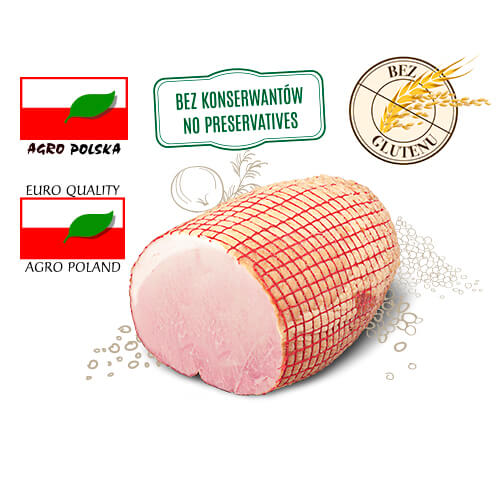 HAM WITH HIMALAYAN SALT
Delicate pork enriched with precious and pure Himalayan salt. A slice or two put in a sandwich will make it extremely tasty and healthy.
Packaging: vac
Weight: 1,5 kg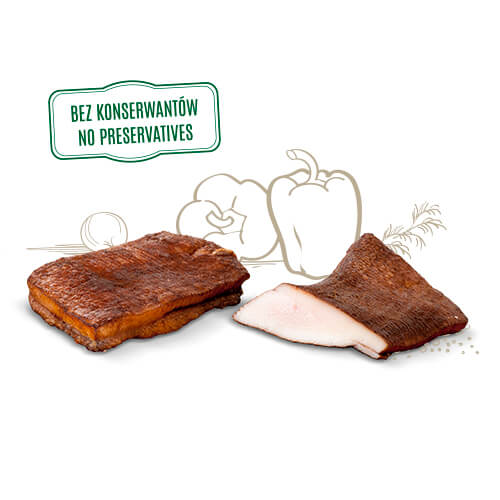 SMOKED "SPYRKA"
Tasty, truly rural pork fat with the beautiful golden rind; necessary in each traditional Polish kitchen.
Packaging: vac
Weight: 300g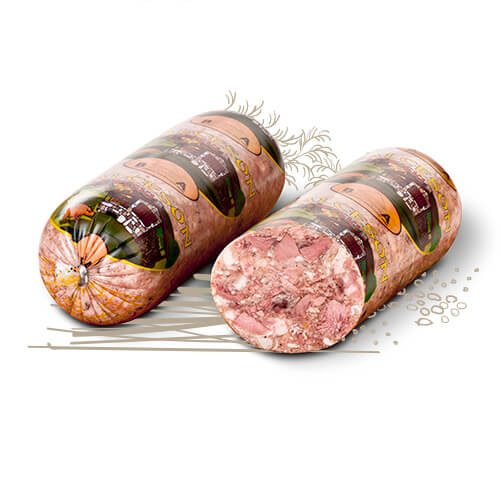 COUNTRY BRAWN
Classic brawn made with high quality pork offal. Skilfully spiced by a sausage master it has an authentic homemade country sausage taste.
Packaging: bar
Weight: 1kg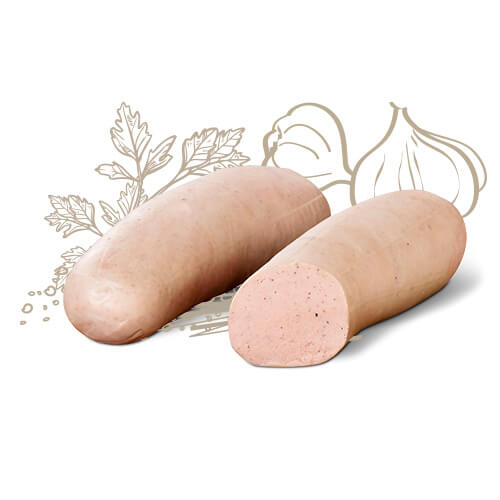 CREAMED PATÉ
Classic sandwich topping with an excellent creamy texture and skilfully spiced. Ideal in a sandwich with some slices of pickled cucumber.
Packaging: vac
Weight: 200-600g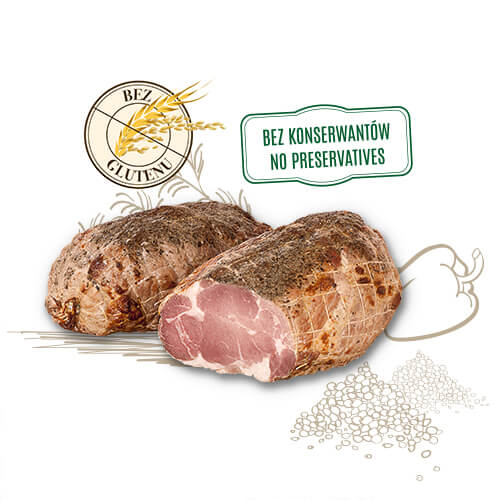 PORK FROM THE OVEN
Precious premium quality roast meat, made with the top quality pork. Liberally seasoned with a mixture of cumin, marjoram and garlic, delights with its wonderful flavour and incredibly tempting herbal aroma.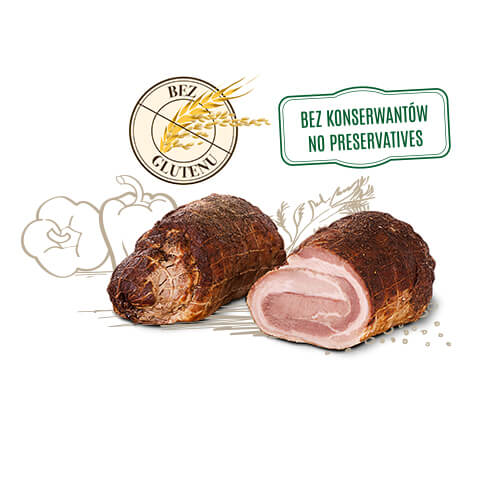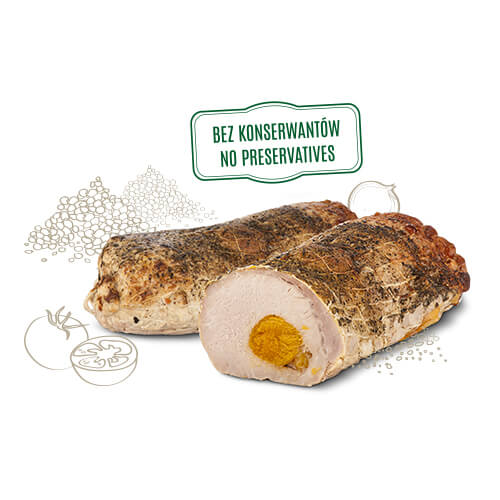 ROAST PORK WITH APRICOT
Incredibly tender and aromatic cold meat, with a delicious surprise inside. Popular with children due to its tasty look. Prepared according to a well-tested recipe; without any additives or preservatives.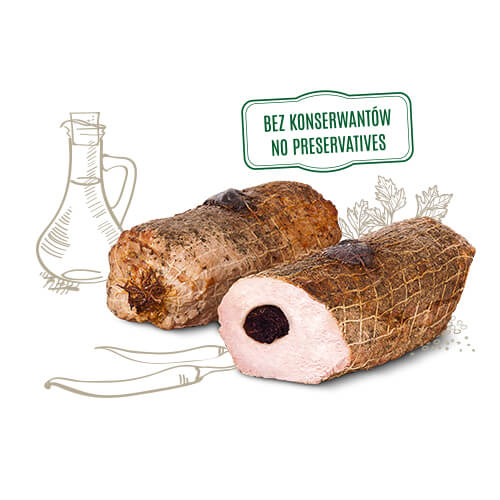 ROAST PORK WITH PLUM
Tender juicy pork enriched with the addition of fruit. The distinctive taste of dried plums and a perfectly selected blend of spices and herbs contribute to its unique flavour. Excellent served both hot or cold.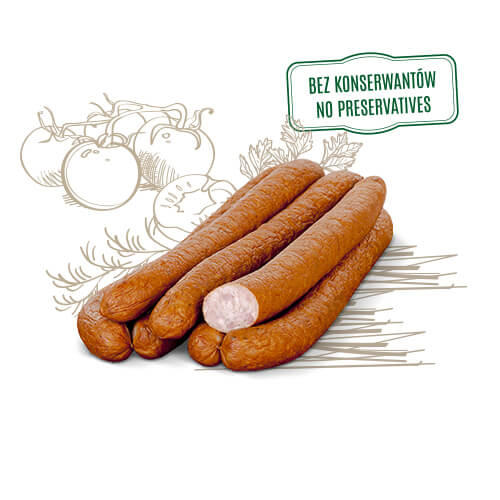 Pork sausage with veal
Top quality pork with the addition of delicious veal. Its excellent taste and smoky aroma will impress any consumer.
Packaging: map
Weight: 1 kg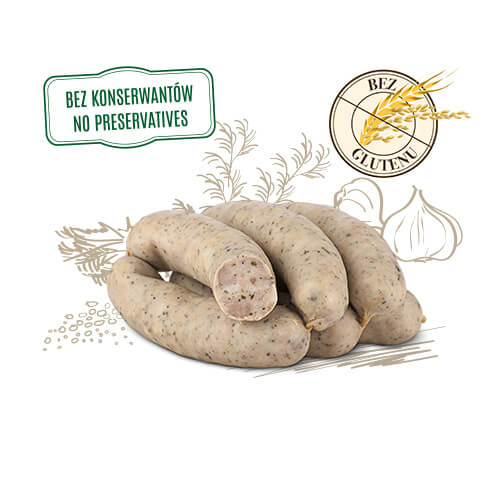 White scalded sausage
An excellent white sausage from BACÓWKA  is perfect both for a main dish or as a soup accompaniment.
Packaging: map
Weight: 500g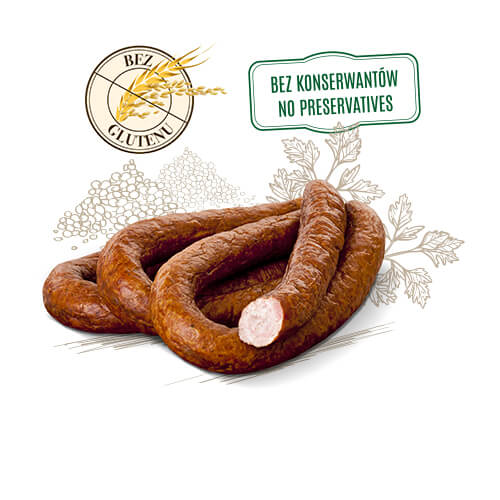 Cottage sausage
A sausage with a distinct garlic aroma. Will satisfy amateurs of expressive dishes. Its secret is not only the aroma but also its nice consistency – tender pieces of meat interlarded with delicate fat and jelly. Yum-yum!
Packaging: map
Weight: 1kg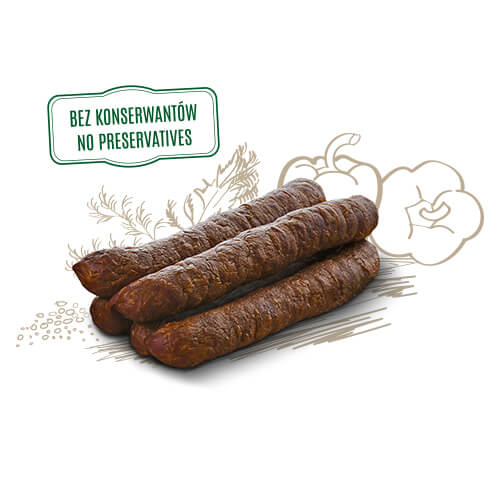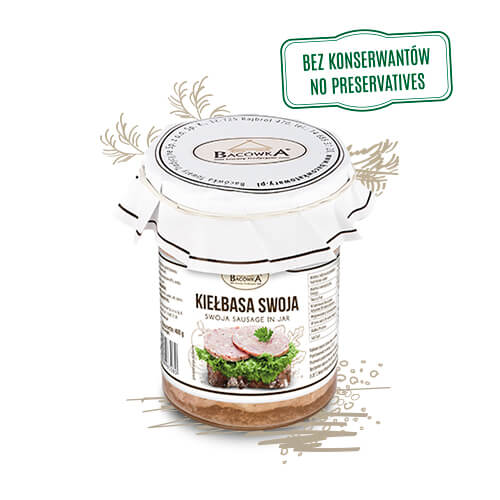 Swoja sausage in jar 400g
Delightful SWOJA sausage in a handy jar. A carefully selected blend of spices with herbal notes brings out its exquisite taste and makes it a delicacy, with a multidimensional flavour and aroma – a gem for connoisseurs of cold meats.
Packaging: jar
Weight: 400g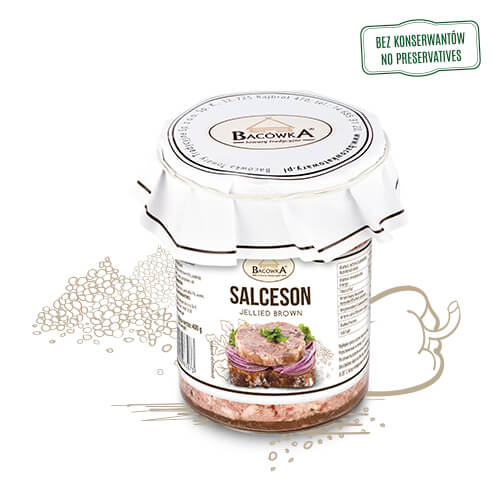 Jellied brawn 400g
Splendid aromatic and spiced brawn made with tender offal. Especially recommended as a sandwich topping accompanied by vegetables.
Packaging: jar
Weight: 400g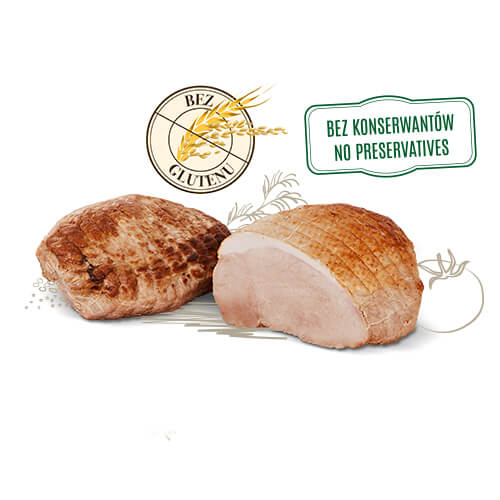 Szynka z pieca
Szynka z pieca wyróżnia się wyjątkowo soczystym wnętrzem i wyrazistą, lekko doprawioną skórką. Sprawdzona kompozycja majeranku, kminku i czosnku nadaje jej wyjątkowy aromat. Szlachetny, szary kolor wędliny to zasługa specjalnej receptury, wykluczającej użycie jakichkolwiek sztucznych dodatków.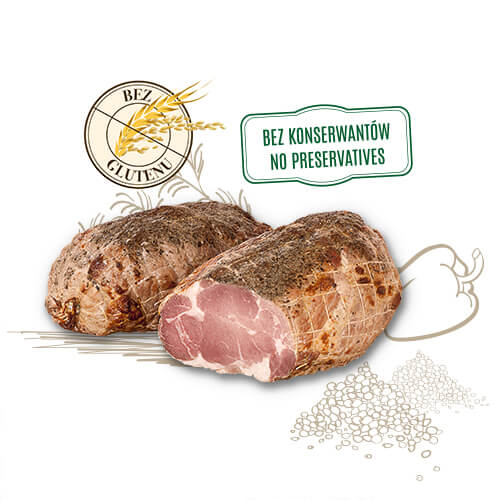 Kark z pieca
Szlachetna pieczeń klasy Premium, z najwyższej jakości mięsa wieprzowego. Obficie natarty mieszanką kminku, majeranku i czosnku, zachwyca nie tylko smakiem doskonałego mięsa, ale także niezwykle kuszącym, ziołowym aromatem.
Szanowny Użytkowniku ! Wejście na stronę internetową www.bacowkatowary.pl (dalej: "Serwis"), wymaga wyrażenia zgody na wykorzystanie przez Administratora plików cookies (ciasteczek) w celach opisanych w Polityce prywatności. Warunki przechowywania cookies i dostęp do ich ustawień możesz sprawdzić lub zmodyfikować za pomocą ustawień Twojej przeglądarki. Naciskając przycisk "Wyrażam zgodę" potwierdzasz, że zapoznałeś się z informacjami zawartymi w Polityce prywatności oraz że Twoja zgoda jest świadoma i dobrowolna. Polityka prywatności
The cookie settings on this website are set to "allow cookies" to give you the best browsing experience possible. If you continue to use this website without changing your cookie settings or you click "Accept" below then you are consenting to this.