Jarred Meats
Delicious cold meats from BACÓWKA put in handy jars are perfect for many occasions. We have prepared this series of products for consumers who remember the taste and aroma of homemade meats in jars, and would like to bring back that unique flavour.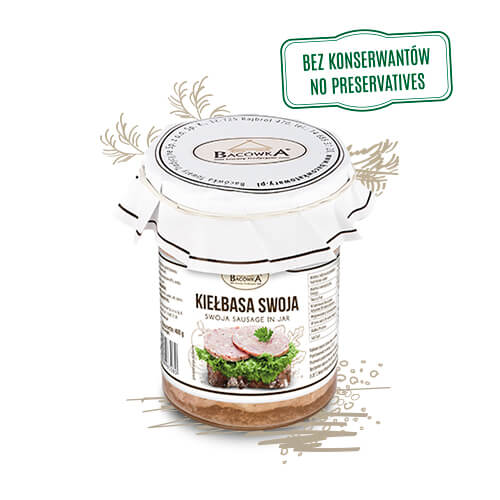 Swoja sausage in jar 400g
Delightful SWOJA sausage in a handy jar. A carefully selected blend of spices with herbal notes brings out its exquisite taste and makes it a delicacy, with a multidimensional flavour and aroma – a gem for connoisseurs of cold meats.
Packaging: jar
Weight: 400g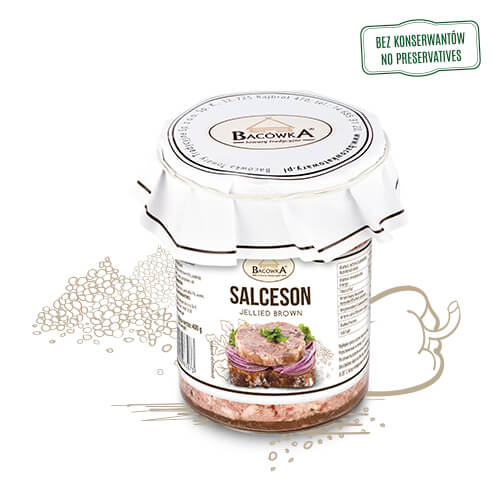 Jellied brawn 400g
Splendid aromatic and spiced brawn made with tender offal. Especially recommended as a sandwich topping accompanied by vegetables.
Packaging: jar
Weight: 400g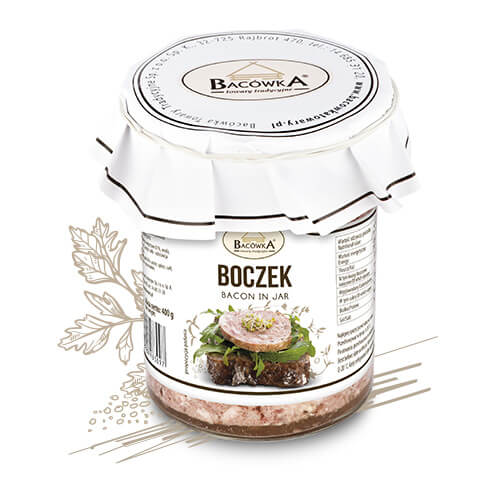 Bacon in jar 400g
A real delicacy for those who appreciate tender juicy and aromatic meats from jars. Delicate chunks of bacon, minced and spiced, delight with their taste and aroma. Ideal for spreading on bread; can be stored in the fridge for a long time.
Packaging: jar
Weight: 400g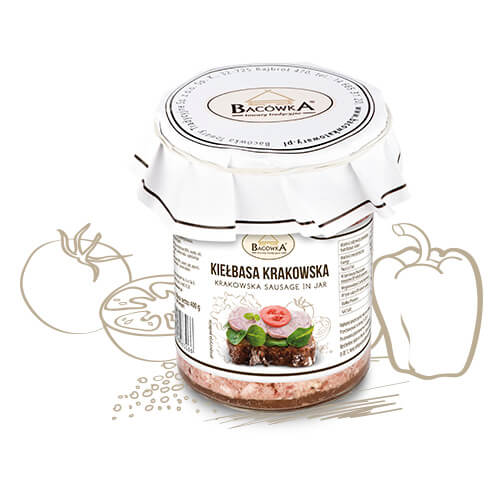 Krakowska sausage in jar 400g
The tasty KRAKOWSKA sausage is valued for its excellent flavour and aroma. A perfect choice if you want to go on a trip and take with you some regional flavour.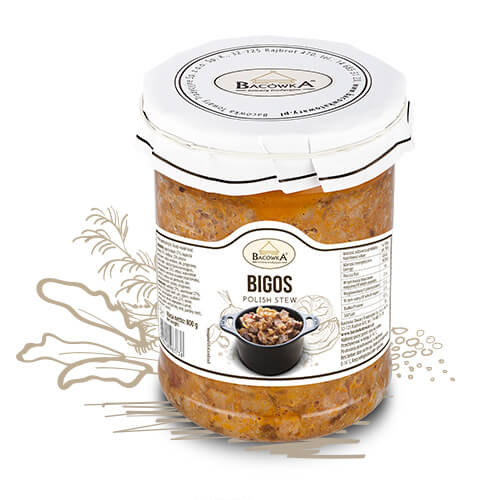 Polish Stew 800g
Excellent stew made according to a well-tested recipe. Mushroom, meat and vegetable flavours merge deliciously with a cabbage and onion taste, creating a wonderful essential dish ready to be eaten just after heating.
Packaging: jar
Weight: 800g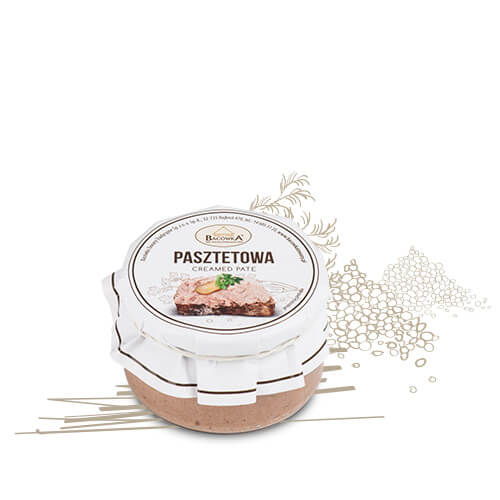 Creamed pate 200g
A classic sandwich topping with a perfect creamy texture and skilfully spiced flavour. Thanks to the handy packaging you can enjoy its taste longer.
Packaging: jar
Weight: 200g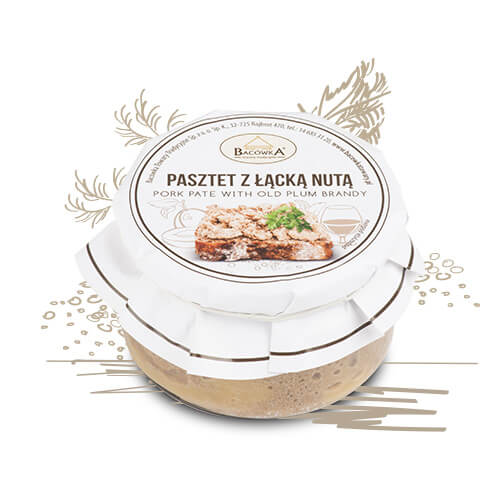 Pork pate with old plum brandy 200g
Delicatessen paté with a surprising note flavour, owing it to the addition of some old plum brandy. Dried plums and a well-composed blend of spices contribute to its great taste and aroma. Especially recommended for connoisseurs of unique dishes.
Packaging: jar
Weight: 200g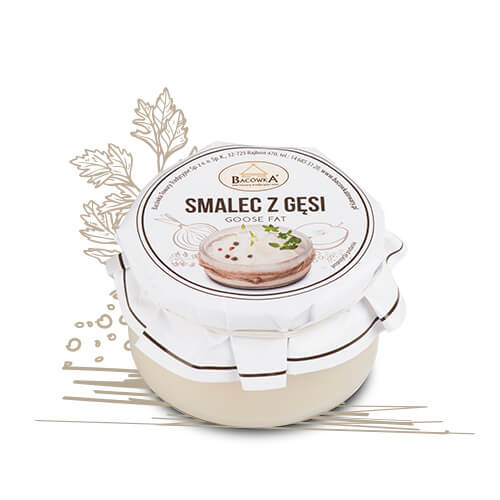 Goose fat 200g
Pure goose fat with an incredibly delicate texture. Ideal for frying, roasting and cooking. Valued not only for its unique taste, but for its beneficial effect on health as well.
Packaging: jar
Weight: 200g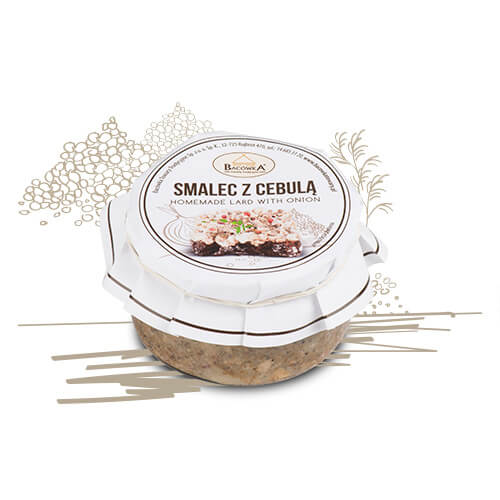 Homemade lard with onion 200g
Splendid lard in a classic combination with onion and greaves. Tastes incredibly delicious with fresh bread and cucumber; an ideal snack for hiking.
Packaging: jar
Weight: 200g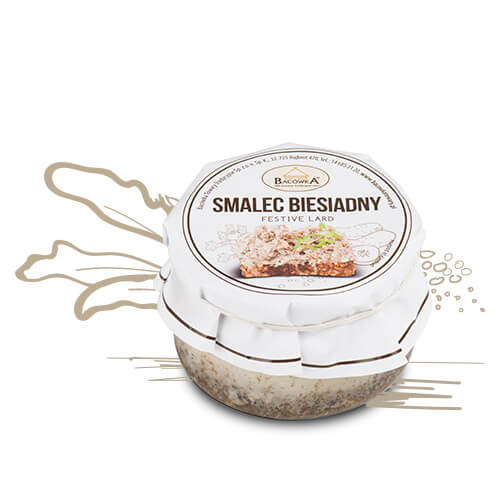 Festive lard 200g
Excellent lard with a scent of smoked bacon and onion;  flavoured with a hint of apple. It is a real delicacy ideal for any feast.
Packaging: jar
Weight: 200g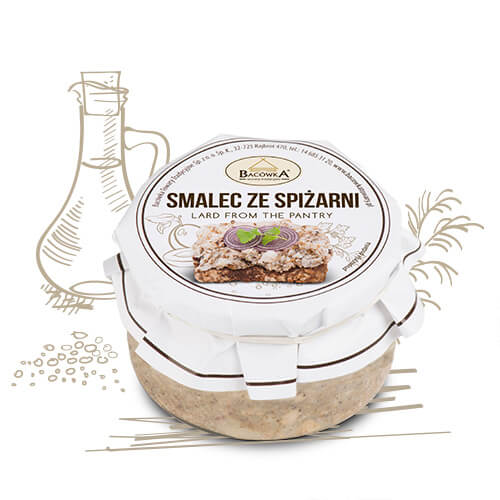 Lard from the pantry 200g
Lard with the addition of dried plums, creating a perfect contrast to the taste of lard and onions. It goes perfectly with wholemeal bread and it is difficult to imagine a better snack on a cold winter day.
Packaging: jar
Weight: 200g
Szanowny Użytkowniku ! Wejście na stronę internetową www.bacowkatowary.pl (dalej: "Serwis"), wymaga wyrażenia zgody na wykorzystanie przez Administratora plików cookies (ciasteczek) w celach opisanych w Polityce prywatności. Warunki przechowywania cookies i dostęp do ich ustawień możesz sprawdzić lub zmodyfikować za pomocą ustawień Twojej przeglądarki. Naciskając przycisk "Wyrażam zgodę" potwierdzasz, że zapoznałeś się z informacjami zawartymi w Polityce prywatności oraz że Twoja zgoda jest świadoma i dobrowolna. Polityka prywatności
The cookie settings on this website are set to "allow cookies" to give you the best browsing experience possible. If you continue to use this website without changing your cookie settings or you click "Accept" below then you are consenting to this.