Hams and Sirloins
Our cured meats owe their exquisite taste to the best quality pork, veal and beef cured with the composition of properly selected natural spices. In our offer you will find many premium quality products which are made with the utmost care from hand-selected meat.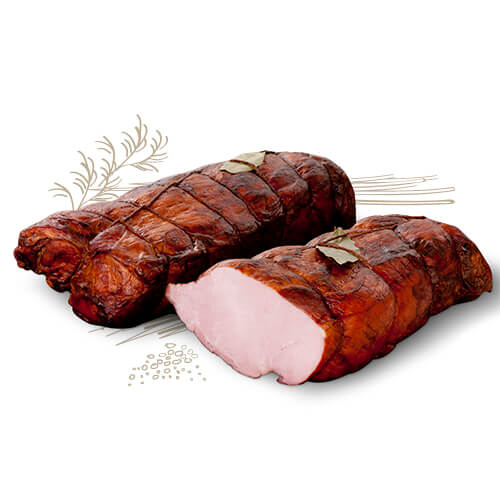 SIRLOIN FROM THE SMOKEHOUSE
Excellent smoked sirloin made from the best extremely tender meat with a slightly herbal aroma and a hint of smoky flavour will delight everyone.
Packaging: vac
Weight: 2 kg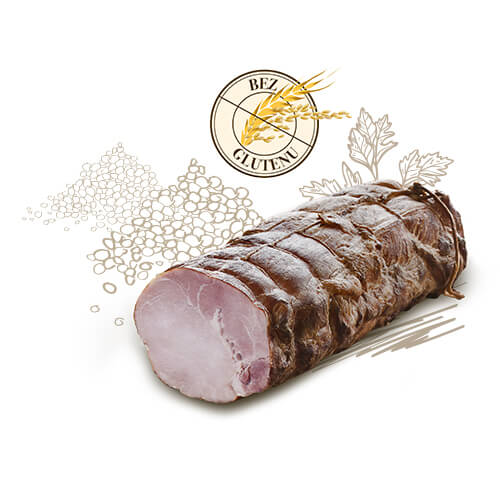 "LIPNICKA" SIRLOIN
This master sirloin is second to none. Carefully selected the most tender pieces of sirloin are blanched and smoked. This premium product stands out for its rich flavour and aroma.
Packaging: vac
Weight: 1.5 kg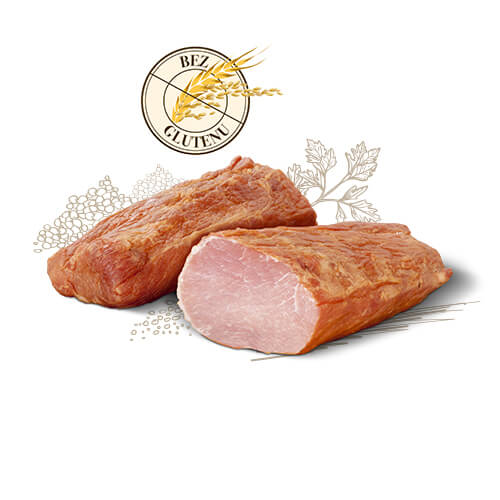 RAW SMOKED SIRLOIN
Savoury sirloin made from carefully selected pork has an extraordinary colour and a bit malleable consistency. It is slightly salty in flavour and has a gentle smoky aroma.
Packaging: vac
Weight: 1.5 kg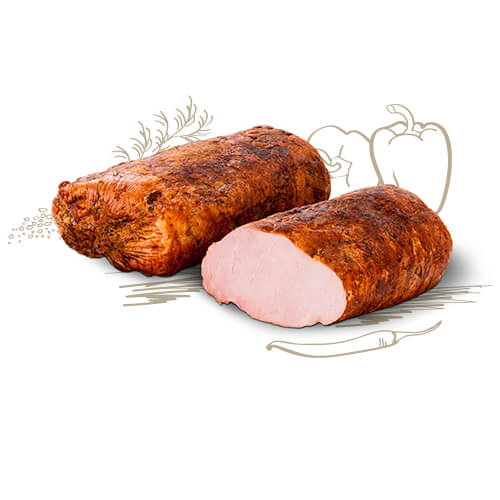 ROAST SIRLOIN
It is not easy to find more delicious sirloin than this one. Made from high quality meat and carefully roasted becomes tender and juicy, and good for many culinary applications.
Packaging: vac
Weight: 2 kg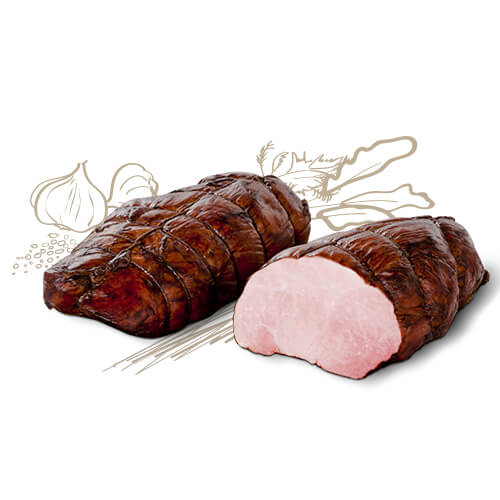 SHEPHERD'S HAM
Aromatic ham made from tender pork, with deep brown crust and deep flavour. Premium quality product ideal for amateurs of expressive food.
Packaging: vac
Weight: 1.5 kg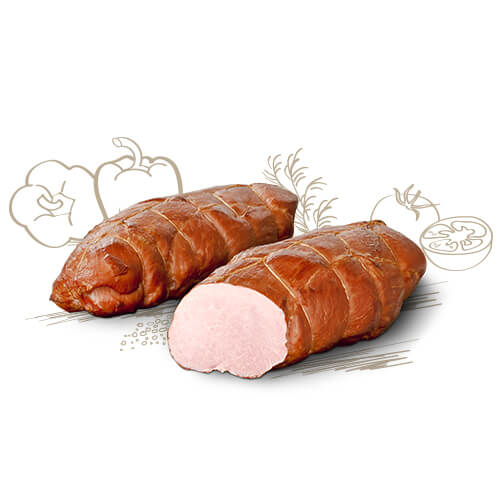 "BACÓWKA" HAM
Smoked ham which delights gourmets with the unique composition of the flavour and aroma. Produced exclusively by the Bacówka company.
Packaging: vac
Weight: 1.5 kg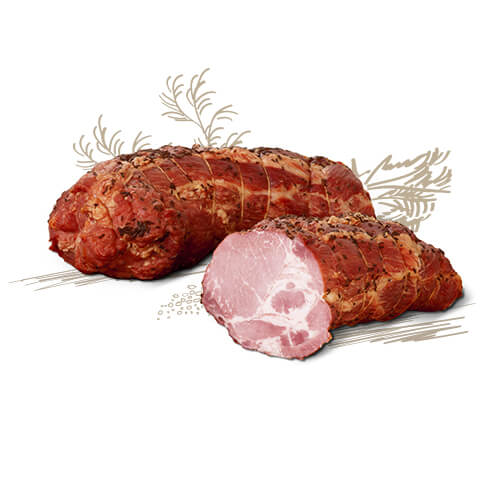 PRINCELY GAMMON
Delicious gammon is made from carefully selected meat from pork neck, seasoned with aromatic spices and finally smoked. Thanks to the retained structure of muscle and pepper and herbs coating looks great on a dish.
Packaging: vac
Weight: 1.5 kg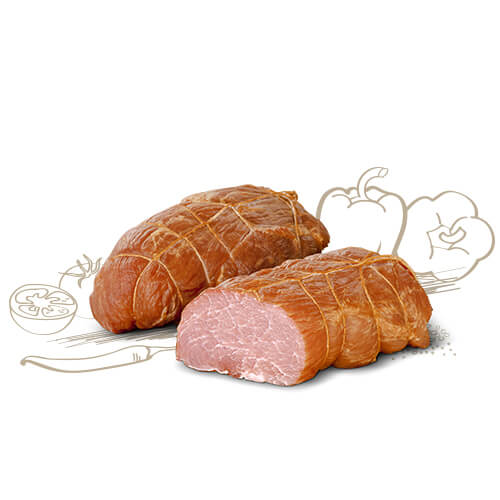 SMOKED HAM
It is excellent classic smoked ham based on the proven recipe, ideal for every day and for special occasions.
Packaging: vac
Weight: 1-1.3kg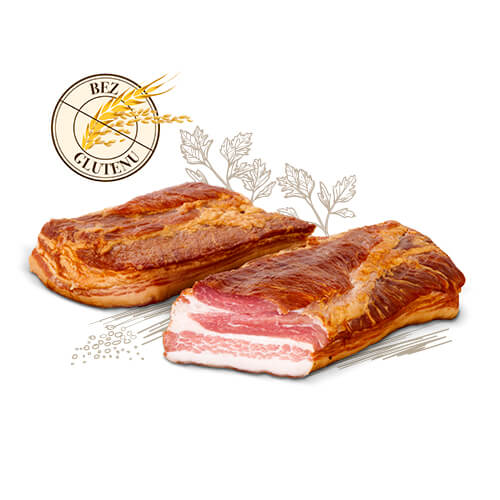 SMOKED BACON
Delicious smoked bacon form Bacówka with golden rind is ideal for roasting, grilling, making stew or split pea soup.
Packaging: vac
Weight: 1.5-2 kg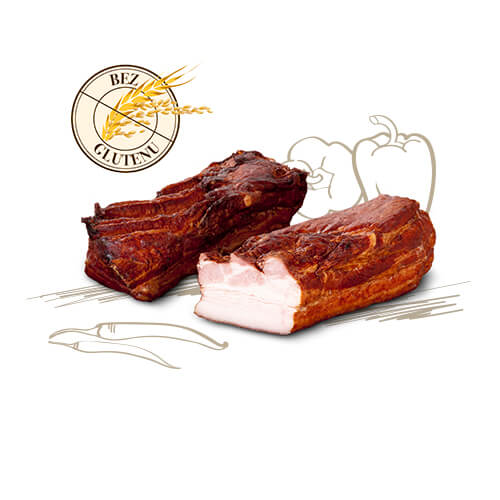 COOKED BACON
Cooked bacon is prepared from the highest quality pork. It has a gentle taste with a hint of smoky flavour. Ideal for those who like juicy and aromatic cold meats.
Packaging: vac
Weight: 0.6-0.8 kg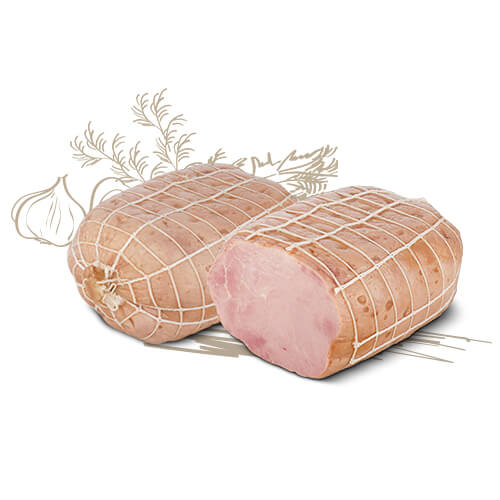 WHITE HAM
It owns its characteristic colour to the preparation process. Since it is blanched, not smoked, it does not brown, and the meat gains juiciness.
Packaging: vac
Weight: 3.5-4 kg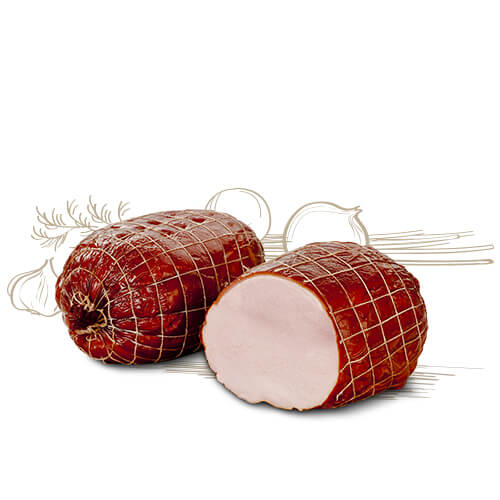 FESTIVE HAM
Elegantly arranged in slices gives off the tempting aroma and makes an ideal snack for feasts and parties.
Packaging: vac
Weight: 3.5-4 kg
Szanowny Użytkowniku ! Wejście na stronę internetową www.bacowkatowary.pl (dalej: "Serwis"), wymaga wyrażenia zgody na wykorzystanie przez Administratora plików cookies (ciasteczek) w celach opisanych w Polityce prywatności. Warunki przechowywania cookies i dostęp do ich ustawień możesz sprawdzić lub zmodyfikować za pomocą ustawień Twojej przeglądarki. Naciskając przycisk "Wyrażam zgodę" potwierdzasz, że zapoznałeś się z informacjami zawartymi w Polityce prywatności oraz że Twoja zgoda jest świadoma i dobrowolna. Polityka prywatności
The cookie settings on this website are set to "allow cookies" to give you the best browsing experience possible. If you continue to use this website without changing your cookie settings or you click "Accept" below then you are consenting to this.