Gluten Free
For several years, in response to consumer needs, Shepherd's expanding product portfolio of high-quality products gluten-free, marked "gluten free". For customers looking for healthy and natural food also develop a line without preservatives.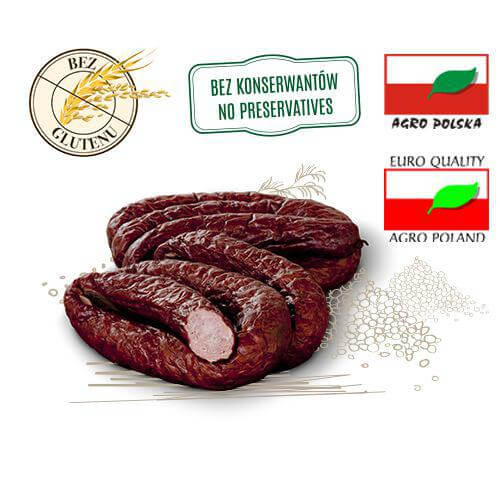 GAME SAUSAGE
A dried sausage with a wonderful garlic and juniper aroma. Thanks to the precious game meat, this premium quality product tastes delicious.
Packaging: map
Weight: 400g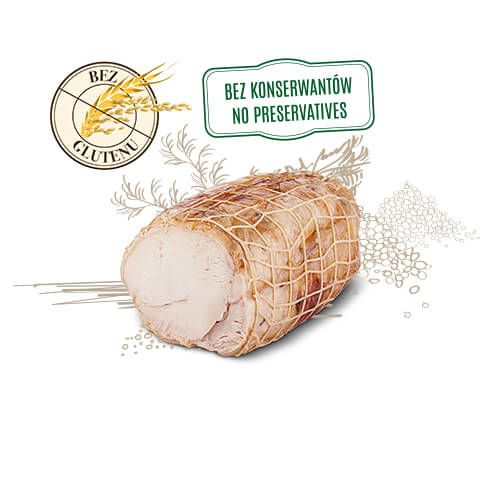 ROAST CHICKEN BREAST
Classical roasted chicken breast made from Polish chicken meat, with a wonderful aroma, goes well with all condiments. This premium quality product is recommended for dinner dishes, salads and sandwiches.
Packaging: vac
Weight: 800g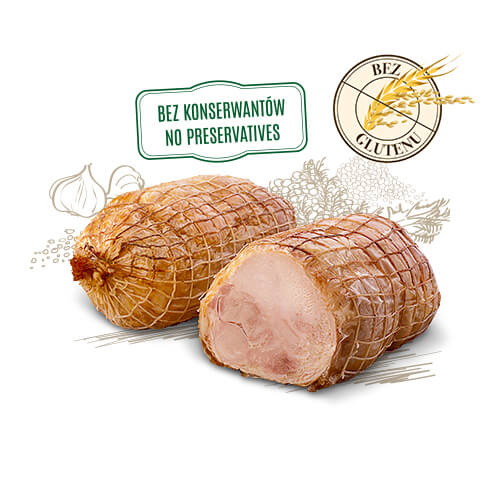 CHICKEN ROULADE
Sensational chicken roulade seasoned with a perfectly selected blend of spices. Once you taste it, you will love it. Premium quality product.
Packaging: vac
Weight: 1.5 kg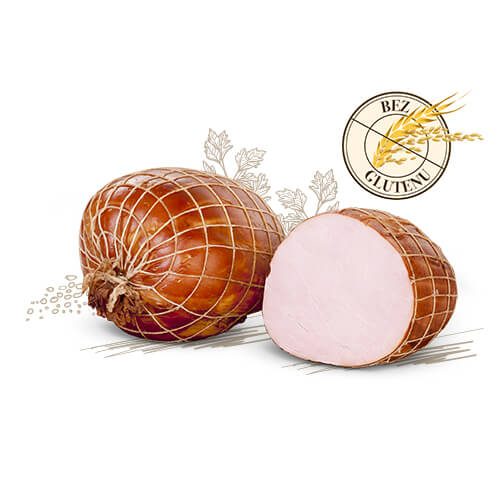 SMOKED TURKEY BREAST
Turkey meat has undoubtedly many advantages: it is tasty, healthy and low in calories. This product is made with the utmost care about flavour and aroma in order to impress everybody who is passionate about good food.
Packaging: vac
Weight: 1 kg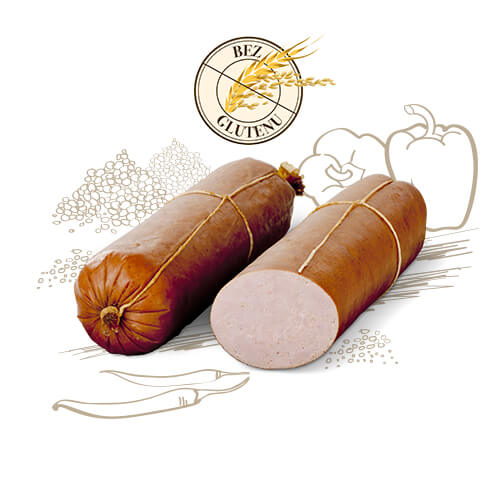 TURKEY SAUSAGE
Gentle sausage made from the best turkey meat. It has a juicy flavour and a typical for blanched sausages aroma with a hint of smoke and spices. Easy to cut makes a tasty addition to sandwiches.
Packaging: map
Weight: 1.5 kg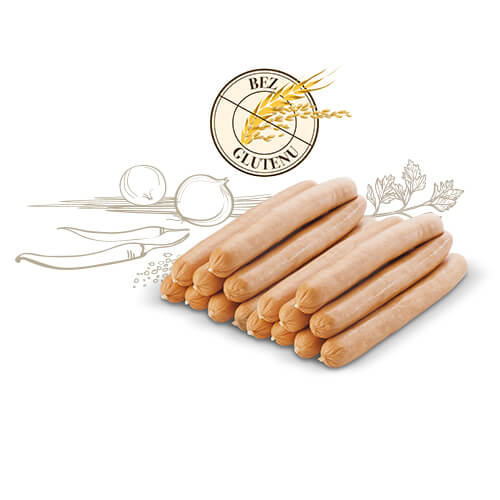 TURKEY BREAKFAST SAUSAGES
Children's favourite snack with a tender consistency and delicious taste. Ideal for breakfast and supper, as a cold or hot dish. We recommend them for cocktail stick appetizers with cheese and vegetables or adding them to your favourite salad. Yum-yum!
Packaging: map
Weight: 400g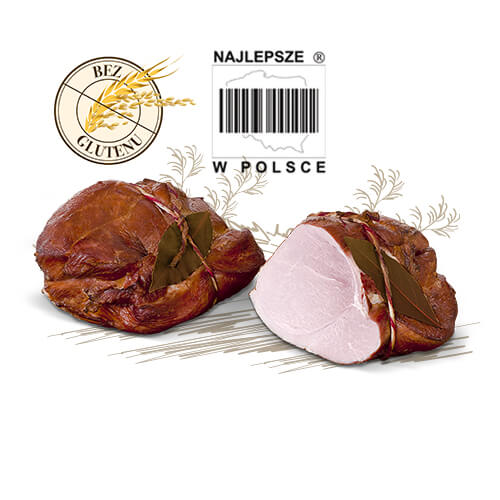 "ZADEK" HAM
Oryginal ham made from a haunch of pork, long marinated in pickle salt, with allspice and other spices. A premium product  awarded with the The best in Poland certificate and Grand Prix Małopolski Smak.
Packaging: vac
Weight: 0.8 kg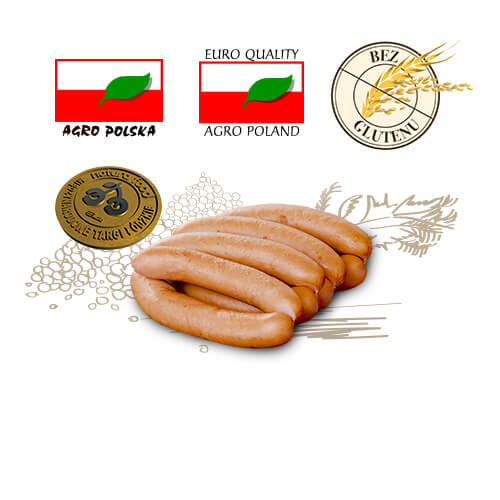 VEAL SAUSAGES
Extremely delicate and fragile veal sausages with the addition of pork. This delicacy is low in fat but high in protein, iron, vitamin B12 which makes it an excellent snack for children and people on a diet – also gluten-free diet. The highest quality product; winner of the prize in the category ''traditional product".
Packaging: map
Weight: 250g and 500g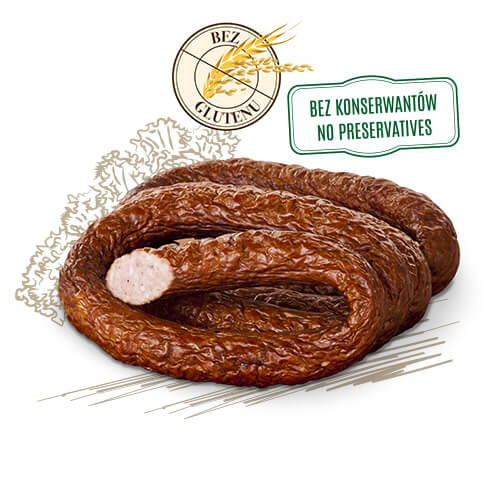 HOME-STYLE SAUSAGE
Smoked over the beech and apple wood smoke, seasoned with garlic, onion, marjoram and pepper takes on a multidimentional flavour and aroma – a true gem among  sausages.
Packaging: map
Weight: 1 kg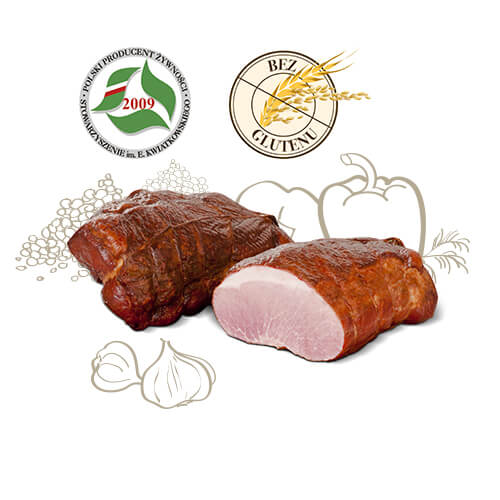 "SZOŁDRA" HAM
Szołdra is a traditional Polish ham, but we have created something more – an exquisite fragrantly-spiced ham with old character and a thin coating of fat. A real 'must taste'.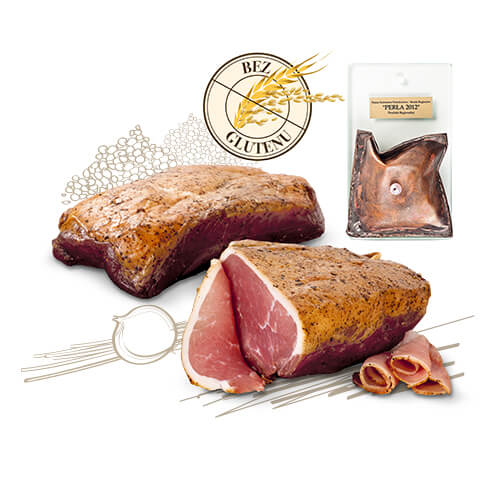 SMOKED VEAL
Long matured ham is an excellent ham with the flavour similar to Parma ham. This carefully hand-selected meat is first dried and then cold smoked. Thanks to a special blend of herbs takes on such a great taste and aroma that it would be a pity not to taste it.
Packaging: vac
Weight: 0.8-1 kg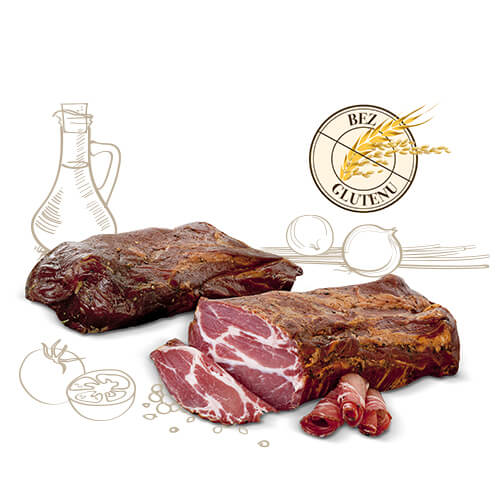 LONG MATURED PORK NECK
This delicious long matured pork neck, dried and subtly cold smoked, will enrich your diet with easily digestible protein, vitamins from B group, iron and zinc, and equally importantly, add a unique taste and aroma to your menu.
Packaging: vac
Weight: 0.8-1 kg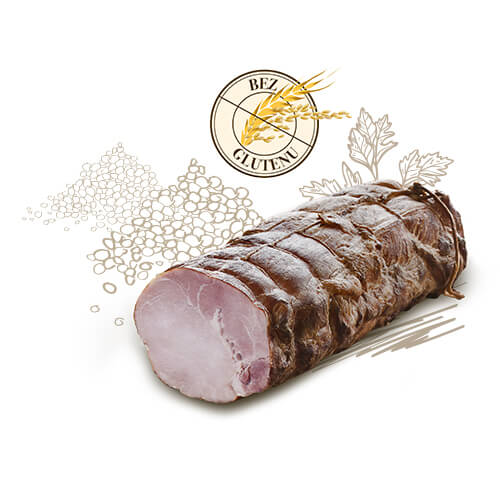 "LIPNICKA" SIRLOIN
This master sirloin is second to none. Carefully selected the most tender pieces of sirloin are blanched and smoked. This premium product stands out for its rich flavour and aroma.
Packaging: vac
Weight: 1.5 kg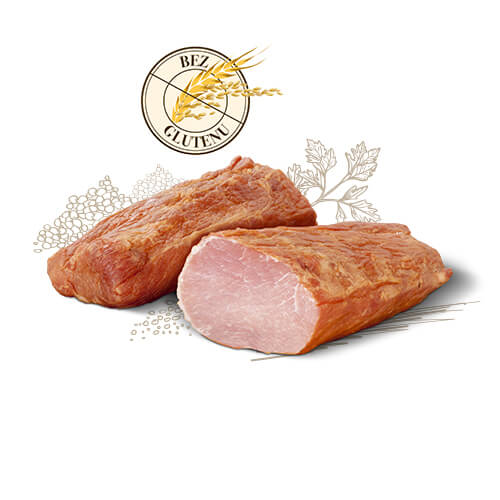 RAW SMOKED SIRLOIN
Savoury sirloin made from carefully selected pork has an extraordinary colour and a bit malleable consistency. It is slightly salty in flavour and has a gentle smoky aroma.
Packaging: vac
Weight: 1.5 kg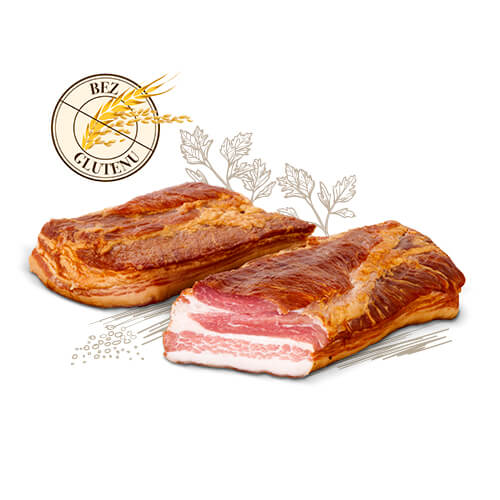 SMOKED BACON
Delicious smoked bacon form Bacówka with golden rind is ideal for roasting, grilling, making stew or split pea soup.
Packaging: vac
Weight: 1.5-2 kg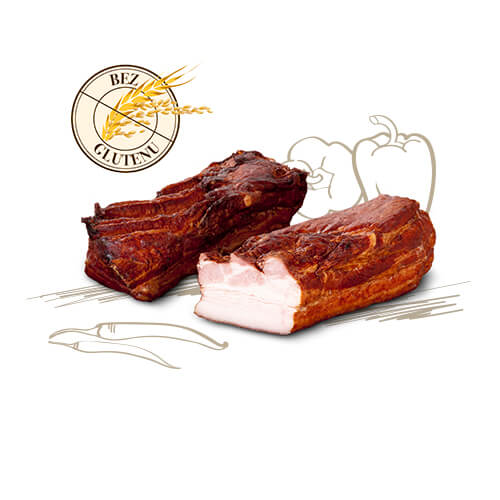 COOKED BACON
Cooked bacon is prepared from the highest quality pork. It has a gentle taste with a hint of smoky flavour. Ideal for those who like juicy and aromatic cold meats.
Packaging: vac
Weight: 0.6-0.8 kg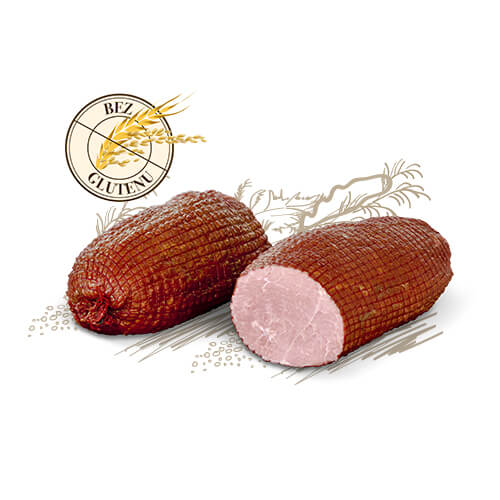 SMOKED BEEF
A real rarity on the Polish market; made from excellent quality hand-selected beef. Carefully smoked and cured, acquires its fragility and succulence which are typial features of premium products.
Packaging: vac
Weight: 0.8 – 1kg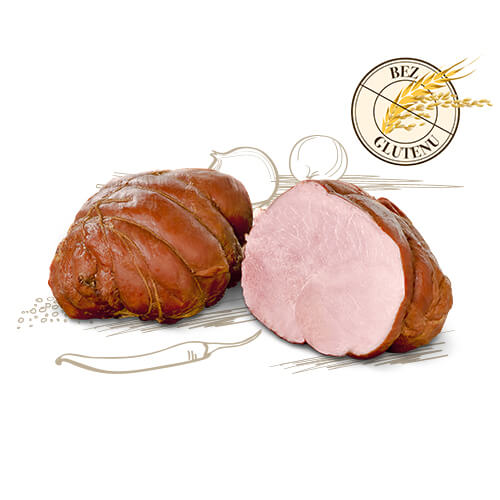 SMOKED VEAL
Excellent smoked veal prepared according to the best Polish traditions of curing meats. It delights with the unique aroma thanks to gentle curing and seasoning with fresh herbs. Highly recommended for children and lovers of original meats.
Packaging: vac
Weight: 600 g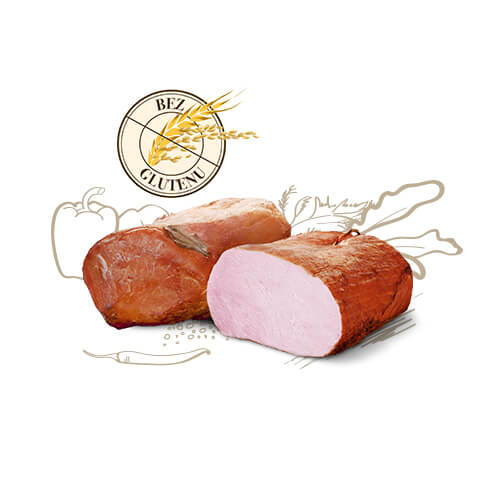 MARYNA'S SIRLOIN
The most delicate piece of sirloin cured in special brine with pickling salt and a fragrant bouquet of spices. It gets the full flavour while smoking over the beech and alder wood. A rarity for connoisseurs of delicious meats.
Packaging: bac
Weight: 800g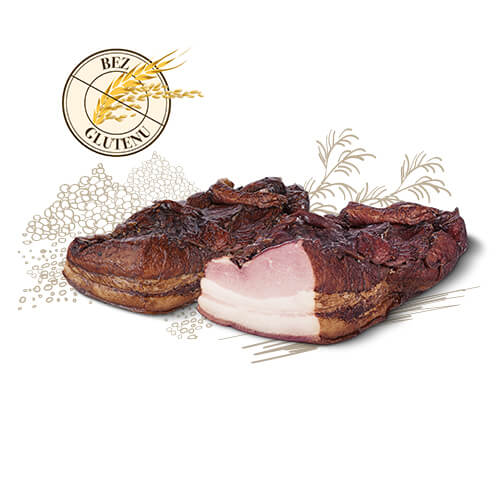 SHEPHERD'S BACON
Juicy Shepherd's bacon is the effect of curing meat in carefully selected aromatic spices and subtle smoking over the beech wood. We highly recommend this premium product to bacon lovers.
Packaging: vac
Weight: 500g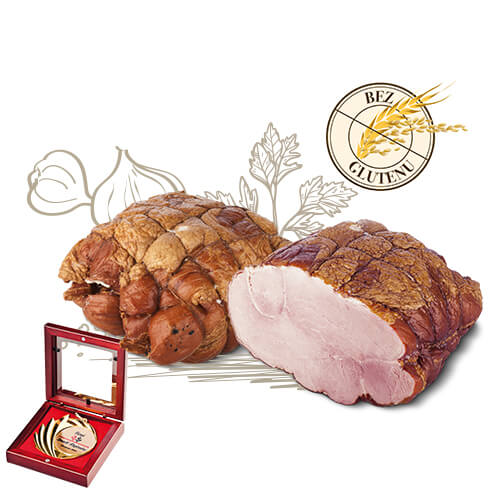 "LIPNICKA" HAM
Excellent  ham with a rich tasty aroma of slightly smoked meat. It gently stratifies while cutting which is characteristic for cured meats retaining the structure of muscles. It looks great arranged in slices.
Packaging: vac
Weight: 3-3,5 kg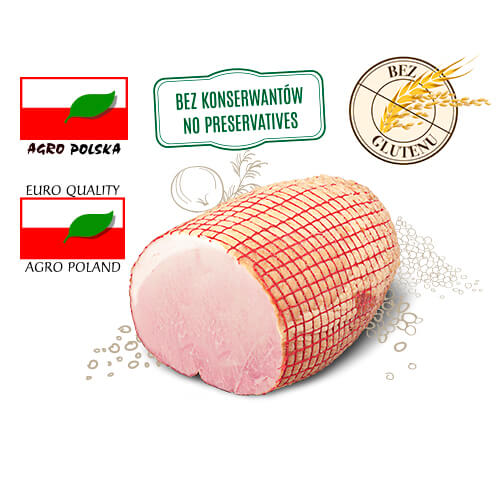 HAM WITH HIMALAYAN SALT
Delicate pork enriched with precious and pure Himalayan salt. A slice or two put in a sandwich will make it extremely tasty and healthy.
Packaging: vac
Weight: 1,5 kg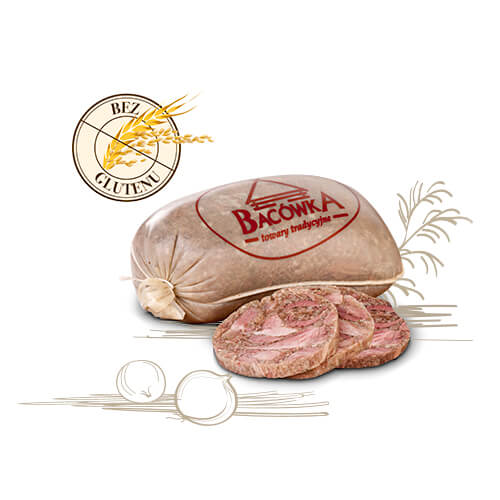 "CWANIOK" BRAWN
Excellent brawn made with pork knuckle and softy offal has a great aroma and it is properly spiced. Especially recommended as a sandwich topping with the addition of some fresh vegetables.
Packaging: bar
Weight: 2,5kg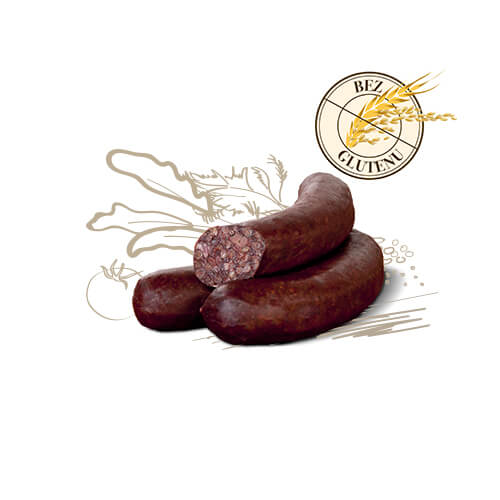 BUCKWHEAT BLACK PUDDING
Homely black pudding made on the basis of buckwheat which is considered one of the healthiest foods. It contributes to its dark colour and nutritional values. Perfect for grilling and roasting.
Packaging: vac
Weight: 400g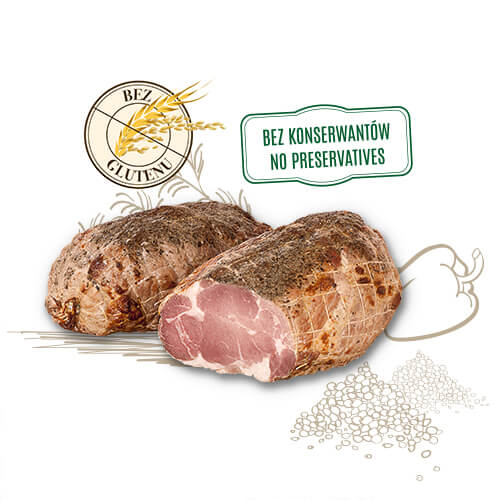 PORK FROM THE OVEN
Precious premium quality roast meat, made with the top quality pork. Liberally seasoned with a mixture of cumin, marjoram and garlic, delights with its wonderful flavour and incredibly tempting herbal aroma.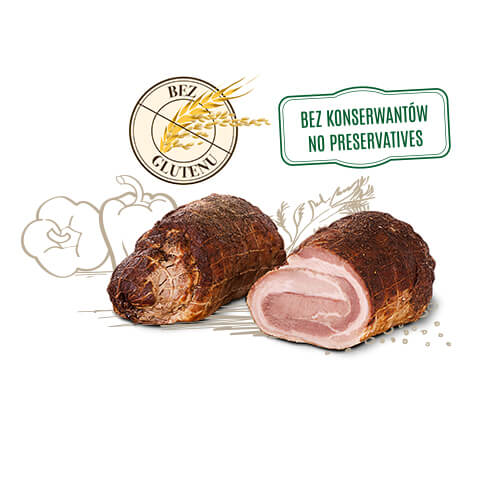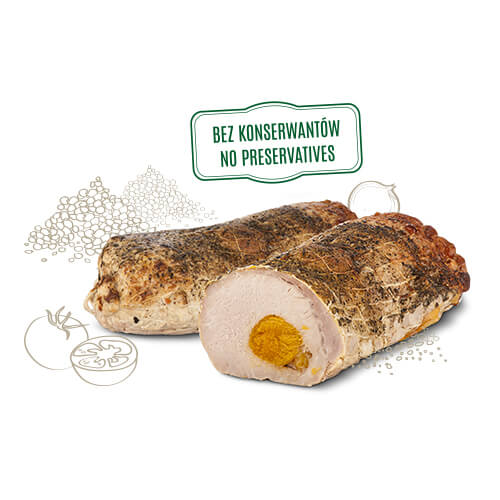 ROAST PORK WITH APRICOT
Incredibly tender and aromatic cold meat, with a delicious surprise inside. Popular with children due to its tasty look. Prepared according to a well-tested recipe; without any additives or preservatives.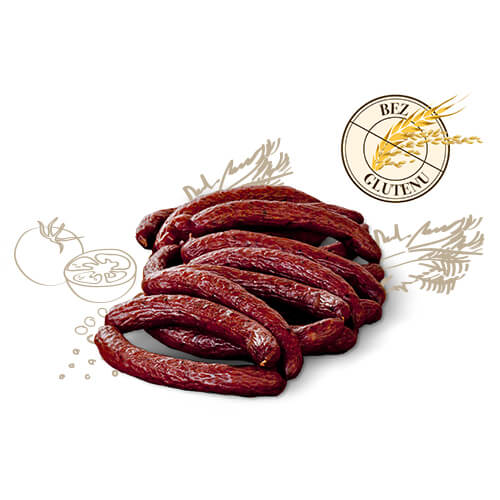 DEER KABANOS
A delicate and fragile premium quality kabanos prepared from deer meat and a little meat from pork shoulder and bacon. After cold smoking it becomes wonderfully tender.
Packaging: map
Weight: 300g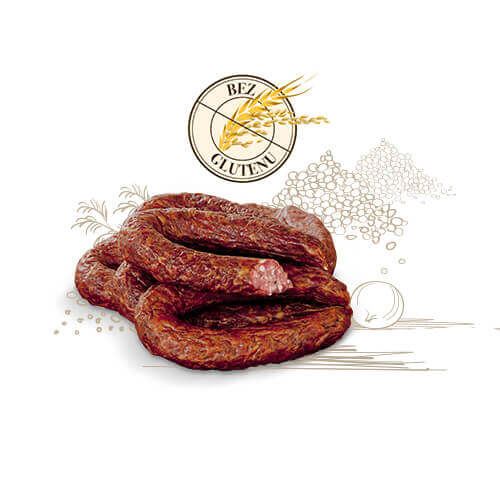 Juniper dried sausage
An ideally balanced combination of pork and beef with a characteristic juniper aroma. It owns its distinctness and tenderness to the careful process of smoking, scalding and drying.
Packaging: map
Weight: 0.3kg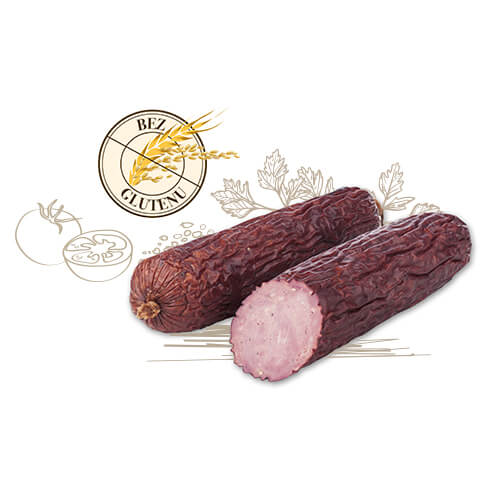 Polish dried sausage
The Polish classic dried sausage delights with the delicious taste with a distinctive spicy aroma. Tastes great solo or in a sandwich.
Packaging: vac
Weight: 1.5kg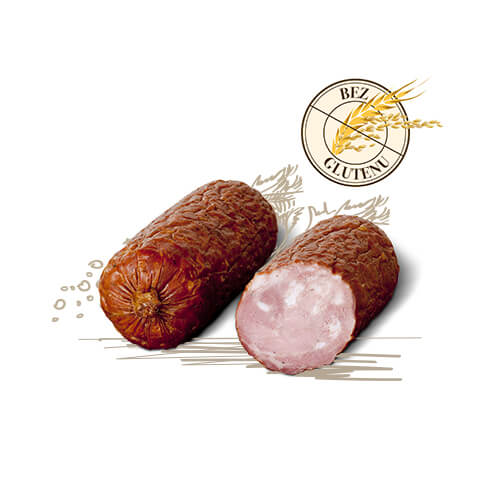 Krakowska dried sausage
Classic but not ordinary. The Krakowska dried sausage delights with its tenderness which is the result of the perfect smoking and drying conditions. It is appreciated for its delicious flavour and aroma.
Packaging: vac
Weight: 0.4kg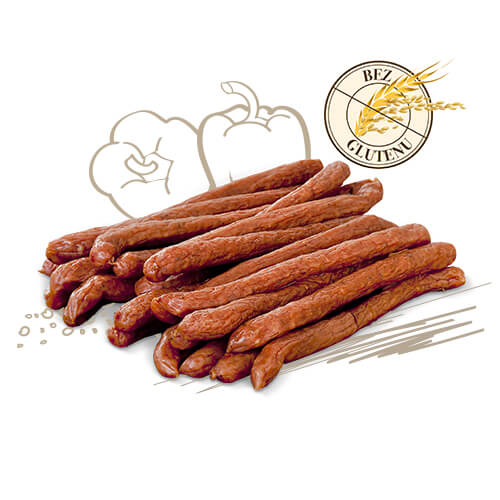 Kabanos
This is a popular and well-known snack. The sausages are prepared from selected, medium ground meat with a hint of spices which give them an ideal spicy flavour.
Packaging: map
Weight: 0.25kg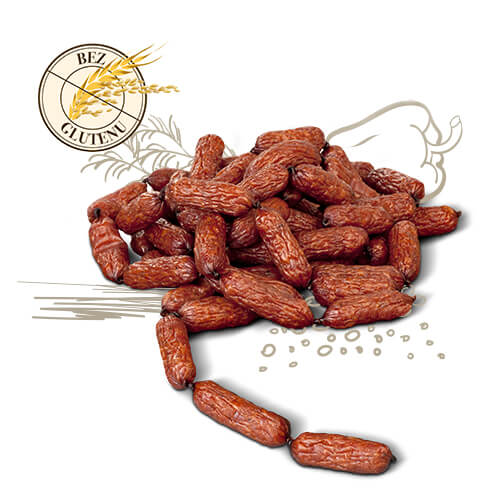 Snack sausages
The prime smoked and dried mini kabanoses with a distinct hint of chilli peppers make an ideal snack for any successful party.
Packaging: map
Weight: 0.25kg/0.5 kg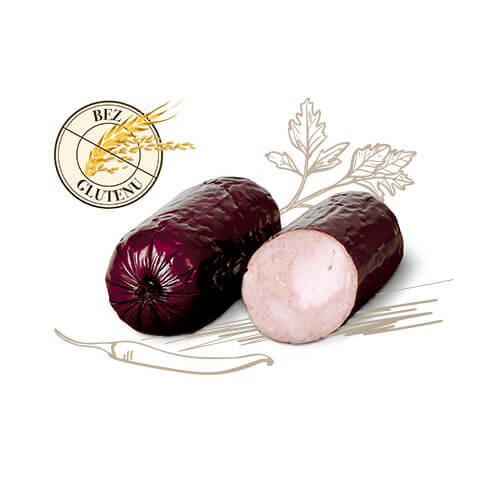 Harnaś sausage
Made from excellent pork with the addition of carefully selected blend of spices. Premium quality product.
Packaging: vac
Weight: 0.4 kg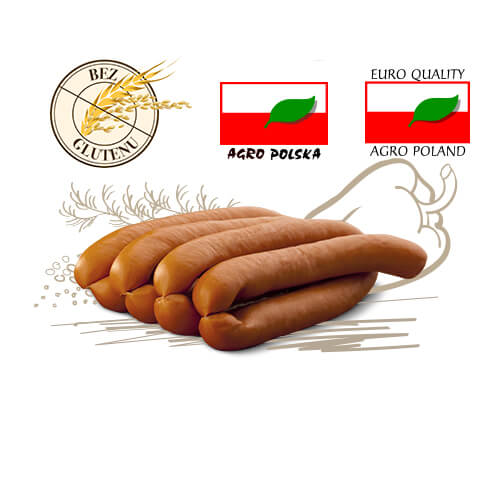 Rabbit sausages
Fans of subtle flavours will love these sausages made from tender rabbit meat. Rich in nutritions, healthy and extremely tasty make an ideal snack for the whole family.
Packaging: map
Weight: 0.25kg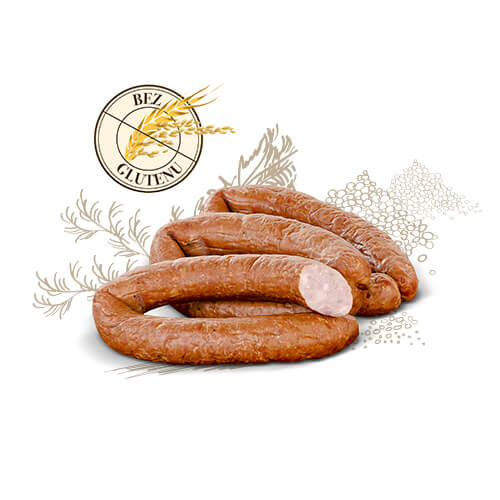 Podwawelska sausage
Classic sausage made from high quality pork. Smoked, scalded and spiced with a carefully selected blend of natural seasonings smells and tastes great.
Packaging: map
Weight: 1kg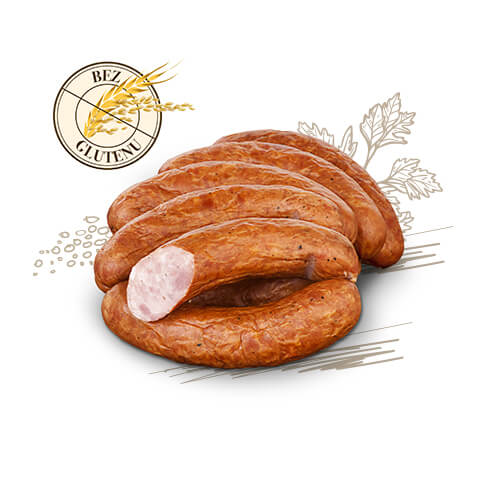 Pogórzańska sausage
The Pogórzańska sausage is especially recommended for dieting consumers. Made from best pork and spiced with an original blend of seasonings is gluten-free and can vary daily meals.
Packaging: map
Weight: 1kg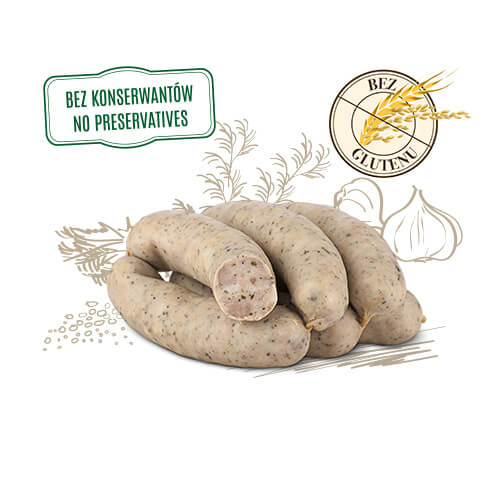 White scalded sausage
An excellent white sausage from BACÓWKA  is perfect both for a main dish or as a soup accompaniment.
Packaging: map
Weight: 500g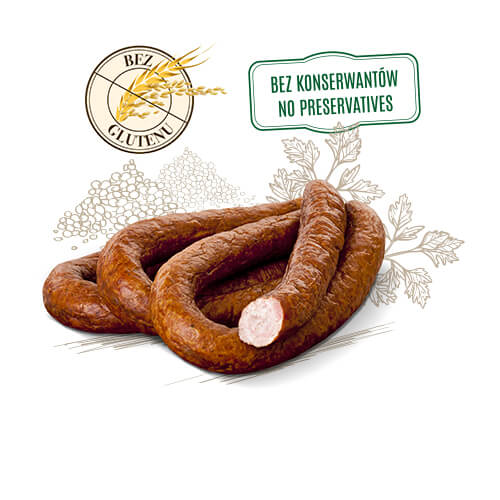 Cottage sausage
A sausage with a distinct garlic aroma. Will satisfy amateurs of expressive dishes. Its secret is not only the aroma but also its nice consistency – tender pieces of meat interlarded with delicate fat and jelly. Yum-yum!
Packaging: map
Weight: 1kg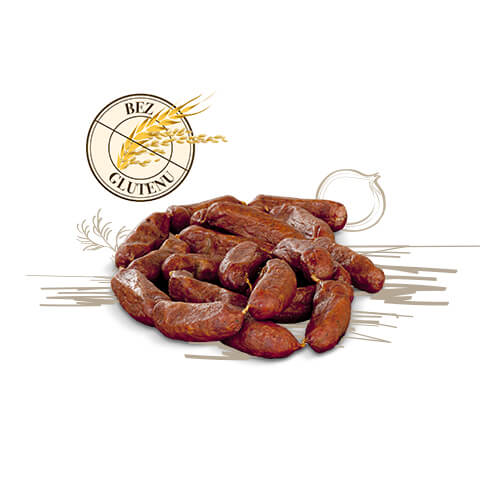 Hunter's dried sausage
This sausage is a perfect combination of the highest quality game meat with pork. Its tenderness and characteristic shape make it an ideal snack. Premium quality product.
Packaging: map
Weight: 250g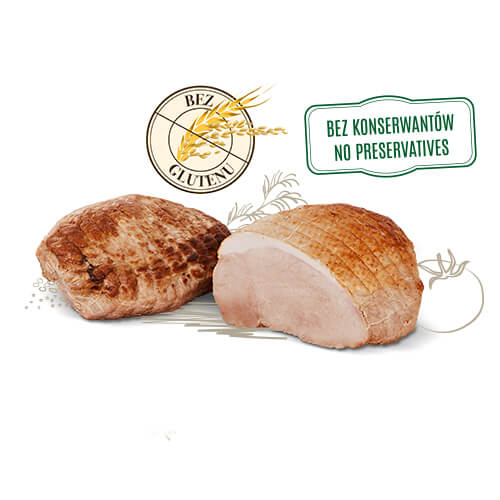 Szynka z pieca
Szynka z pieca wyróżnia się wyjątkowo soczystym wnętrzem i wyrazistą, lekko doprawioną skórką. Sprawdzona kompozycja majeranku, kminku i czosnku nadaje jej wyjątkowy aromat. Szlachetny, szary kolor wędliny to zasługa specjalnej receptury, wykluczającej użycie jakichkolwiek sztucznych dodatków.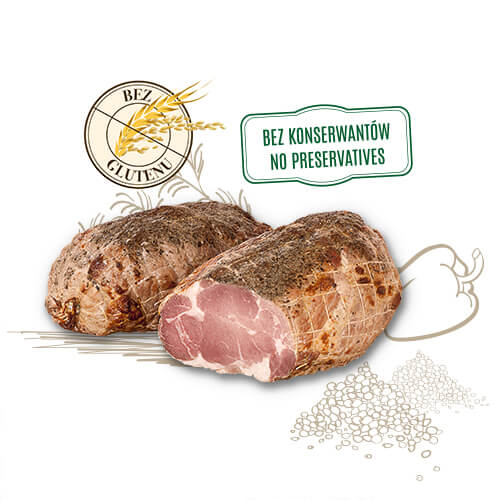 Kark z pieca
Szlachetna pieczeń klasy Premium, z najwyższej jakości mięsa wieprzowego. Obficie natarty mieszanką kminku, majeranku i czosnku, zachwyca nie tylko smakiem doskonałego mięsa, ale także niezwykle kuszącym, ziołowym aromatem.
Szanowny Użytkowniku ! Wejście na stronę internetową www.bacowkatowary.pl (dalej: "Serwis"), wymaga wyrażenia zgody na wykorzystanie przez Administratora plików cookies (ciasteczek) w celach opisanych w Polityce prywatności. Warunki przechowywania cookies i dostęp do ich ustawień możesz sprawdzić lub zmodyfikować za pomocą ustawień Twojej przeglądarki. Naciskając przycisk "Wyrażam zgodę" potwierdzasz, że zapoznałeś się z informacjami zawartymi w Polityce prywatności oraz że Twoja zgoda jest świadoma i dobrowolna. Polityka prywatności
The cookie settings on this website are set to "allow cookies" to give you the best browsing experience possible. If you continue to use this website without changing your cookie settings or you click "Accept" below then you are consenting to this.